Authentic In Peru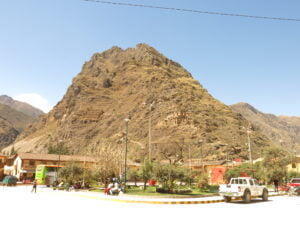 We owe much to our ancestors, especially the traditions that have survived and evolved into artful healing therapies. People of the ancient cultures practiced healing therapies, accumulating knowledge based on observation, practice and wisdom passed through generations.
Seeking a stronger connection to this past, I have travelled to Peru. The Sacred Valley has much evidence of Inca culture and heritage. It is especially evident in the town of Ollantaytambo. Here I traversed the cobble-stone streets with the gushing sounds of water all around me, as it raced from the towering mountains to the rivers through the stone cut aqua-ducts.
The town not only boasts fine Inca architecture but is also known as 'a living Inca museum'. A tradition survives here and it is manifest in the colourful attire of many of its inhabitants and in their healthy food.
On my first day in Ollantaytambo, I offered Reflexology to my host Queta (Hospedaje Kusiqoyllor). It was her first time to receive any kind of holistic therapy. It was interesting to discover the Spanish translation for the all the terms required throughout the treatment. Qeta's son Carlos was our translator and together the three of us enjoyed a wonderful experience. Qeta enjoyed the treatment very much, her smile says it all and afterwards she found the words to express her gratitude, 'I love you!' I was rewarded by a healthy lunch and dinner, dishes of organic vegetables.
Visitors and inhabitants alike all speak of the special energy of Ollantaytambo in Peru's Sacred Valley. It is a town that has provided much inspiration to me in my writing, therapy practice and for my life's journey.
Have you visited Ollantaytambo and did you experience this special energy too?
Follow blog posts / Find Out More About Reflexology Read More
Follow Caroline Cunningham Art on WordPress.com