This is Anxiety - Seek Support Today
The business network event was soon to start as Karen entered the busy conference room.
I heard her say hello to a one or two people behind me, who were obviously familiar to her. She politely excused herself as she passed through the row of seats and sat next to me.
She was dressed smartly in her business attire, having come from work. She sat with a straight posture and gazed ahead towards the platform in front of us.
As we awaited the announcement of the invited guest speaker, I introduced myself and enquired about her business and hopes for the evening. Karen, a senior consultant in the corporate world, seemed initially reserved and a little tense in her response.
Being a therapist, I can often sense when another person is uneasy and do my best to bring comfort by just being friendly. She asked me about my reflexology therapy work and wondered what kind of issues it was particularly suited to. I listed a number of health benefits and added that I also have an interest in helping people with anxiety.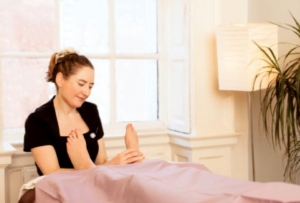 It was at that moment Karen leaned a little closer and almost whispering, she confided that she was in fact feeling quite anxious. She seemed ashamed and I could sense her dismay that this was her demise.
'I usually avoid these events' she explained. 'I know networking is an important part of business but I just feel so tense from start to finish. I end up telling myself it's not worth it'.  I assured Karen that she is not alone feeling this way as many people suffer in silence with their anxiety, afraid that others will find out.
She seemed ashamed and I could sense her dismay that this was her demise.
I encouraged her to seek a way to deal with it more effectively, instead of feeling ashamed. 'It is quite possible,' I added, 'that the person sitting on the other side from you is also feeling these nerves'. I noticed that as she smiled a little, her face softened and with it too, her eyes revealed a kindness. She spoke briefly about personal loss and changing life circumstances, it seemed she had a lot to deal with at this time.
Soon the guest speaker was announced and we listened attentively to the insights and pieces of wisdom being offered by this well-travelled lady. As the event concluded, Karen and I spoke more excitedly about the interesting points of the guest speaker's talk.
On the way home, there was so much to think about. The guest speaker had been quite inspiring and she had done many daring things and fulfilled many of her dreams.
I thought too of Karen and how she had been so arrested by her anxiety when we spoke initially. I thought of the transformation in her persona when she admitted her anguish and relaxed a little. At first she had seemed distant and cool but also confident and elegant, yet underneath this disguise she was just struggling to hold everything together to appear strong. All the work that it took to do this robbed her of joy and cloaked her true authentic nature which was of warmth and kindness.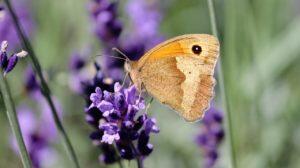 I remembered also, a man who had attended my therapy practice for reflexology. His wife had sent him, as fertility was something she was concerned about for both of them. When her partner, James presented, he was very friendly and seemed quite out-going. He too had a good job in the financial sector and seemed to have a special expertise in this area. After his second visit he revealed that which was bothering him the most. He admitted that anxiety was something that plagued him. He didn't know why he was anxious or when it had started but it he just never seemed to be completely at ease and was at a loss to know how to gain control of his discomfort.
Anxiety is a silent torment for many people. You might not realise this because the ones suffering have become so adept at disguising what's really going on beneath the surface.
Alternatively, people who suffer may assign themselves to a more restricted way of living, out of harm's way, avoiding anything that might aggravate their symptoms, a challenge too great in their minds eye.
We have entered an age of personal development like never before. Internet and social media have provided the perfect platform for sharing story's and knowledge. More and more events and groups are convening to support those who suffer all manner of mental unease and it is now time for anxiety to have its turn at being revealed, unravelled and put to rest.
While some amount of anxiety is considered normal and inevitable, we should not consider acceptable that which robs us of joy and ease.
If you feel anxiety is an issue for you and you would like to make some improvements to how you experience life, I invite you to sign up for my FREE eBook 'Preparing for Calm' – Yes to FREE eBook!
My book,  'Seven C's to Calm – Reclaiming your anxiety-free self' provides  encouragement and support to help you to bring ease to your life. It is available on major on-line stores such as Amazon and Book Depository.
Meanwhile if you live near Dublin 2 or Carlow (Ireland) I provide reflexology therapy on certain days in these areas. – Make an enquiry for Reflexology.
Don't suffer in silence with anxiety, reach out and seek the help you need to be free.
What readers say about Seven C's to Calm – READ REVIEWS
©Caroline Cunningham
Inspiring your Authentic Path
Save
Save
Save
Save
Save
Save
Follow Caroline Cunningham Art on WordPress.com