Your Authentic Style could be your Business Catalyst.
I have a story to share about how I started as a solopreneur simply wanting to be my own boss, using my creative and healing talents to improve life for others. I knew nothing about marketing at that time but I could see very clearly that it was essential for my business.
Like or not, I would have to learn and I would need to get used to putting myself out there. This was the only way my business plans were going to work. I certainly could not afford to employ someone to do the marketing for me but I did avail of some on-line courses and I kept up to date by reading articles on the latest trends in social media.
The digital world was, and still is, changing rapidly, so learning has been a constant feature of my work, alongside creating artwork, writing books and providing reflexology treatments and all the additional nuts and bolts of growing and maintaining a business.
What helped me most was an attitude that I had been cultivating through (now 20) years of study in the creative and holistic field. With an attitude of positivity, curiosity and taking action I was able to take on the tasks of learning and applying the knowledge I was acquiring. My studies also instilled the importance of being authentic i.e. being true to myself and allowing my passion for what I love to be more evident. Being authentic meant I had to be more definite in my actions and words. This too has made a huge difference, not only to the work I produce, but to the results I achieve in my use of marketing and business networking.
Over the last two years especially, I have become more strategic in my use of marketing (which includes social media and pr). I write blog articles (web content for SEO) and create content for social media complete with hash-tags and links to my blogs and website. I create schedules for posting my social media content across twitter, Face Book, Instagram and LinkedIn.
Active engagement with my on-line and off-line connections are just as important, so I attend regular network events and seek opportunities to be heard on radio or to be seen on TV, in magazines and local press. Sometimes these opportunities are presented to me without active seeking and I have been blessed too with offers from fellow bloggers to review my work.
There have been lots of opportunities that have come about as result of these continued efforts. I can give you one example in this article but if you read through some of my past articles you will see there have been many excellent opportunities and sales as a result of my constant application to marketing.
Some people might say I am just lucky, that such opportunities come my way. I can say for sure, these opportunities are not accidental. I make my own luck. Luck comes while I am busy preparing for its arrival.
As a result of my use of twitter to promote my first ever book of poetry (self-published), I made a connection with Nordic artist, author and digital communications specialist Maria Lehtman. Maria purchased my book of poetry via my on-line shop and sent me a lovely review. I got to know Maria over time and we found each other on Instagram too. Maria also loves nature and has many interests and talents which include, photography, writing, healing and digital marketing.
Nine months later, Maria invited me to be featured in her book entitled The Dreaming Doors. This was an exciting collaboration. Maria and I have never met in person, we completed our project entirely through digital channels. The Dreaming Doors was published in June 2018. In October of 2018, Maria contacted me again, this time to purchase one of my tree paintings entitled The In Between. I was very proud to be sending a piece of my artwork to Finland for the first time.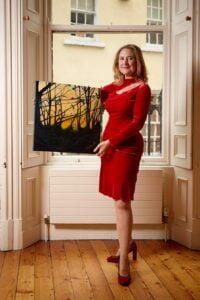 In February of 2019, Maria introduced me to the on-line network of Biz Catalyst 360. I have been invited to contribute some articles there and have already been featured thanks to Maria's article entitled: What can you learn from a STEM specialist pursuing a creative path?
What Can You Learn From A STEM Specialist Pursuing A Creative Path?
Some people might say I am just lucky, that such opportunities come my way. I can say for sure, these opportunities are not accidental. I make my own luck. Luck comes while I am busy preparing for its arrival.
Developing authenticity is not an accident either, it takes time and effort. The path towards authenticity is as unique as each person who seeks it. I simply wanted to express myself better as a singer and as a result of following that path, I realised I needed to change how I used my mind, my behaviours and my whole self.
I was a teacher at the start of this journey, my subjects were Maths and Science, now I am a writer, a visual artist, singer, a reflexology specialist and I am someone who can help others with their digital marketing plans. My teaching ability is still in-tact; it has just taken a different focus.
If you are starting in business and need some guidance or support with your digital marketing strategy and content creation, I am here to help. Simply get in touch via the contact form and tell me what it is you need support with.
Previous clients have benefited from:
Generating ideas for their new business
Identifying their strengths and talents
Creating effective biography or content for their business website
Learning how to use social media for business
Learning to create stories and content for digital marketing for their business
Read Daniela Luz's testimonial:
Since English is not my mother tongue and knowing Caroline's talent for writing, I asked her to help me with correcting articles in English for my new website. It´s imperative to say that Caroline responded to my emails and also corrected the articles in a very short time, so I was able to move forward with my plans very quickly. Caroline's advice and corrections were very helpful. I felt that I could express myself better and the English version did not take away my "identity". Afterwards I felt confident to send the articles to my web designer. I highly recommend Caroline´s services!
Daniela Luz – Roots of Yoga, Portugal
Services offered by Caroline Cunningham include:
Content Creation for Web and Social Media
Social Media Account Management
Mentor support for starting out in business as a solopreneur
Authentic Path Inspiration – find out more
Reflexology Treatment Options – find out more
Contact Caroline to make enquiry – Contact Caroline
© Caroline Cunningham
Inspiring your Authentic Path