Reflexology Treatments How Many do I Need?
A commonly asked question by my clients is 'how many reflexology treatments do I need?' There are a number of factors that determine the answer to this question.
Reflexology is a complimentary health therapy designed to re-balance and maintain your health and well-being. In its current use in Ireland, therapists registered with a professional reflexology body, are not permitted to diagnose illness through the use of reflexology. Subsequently there is no 'prescibed' number of reflexology treatments for clients.
Bearing in mind that people's financial priorities can vary considerably, as a therapist I do not push clients into signing up for lengthy therapy plans.
This is why I prefer to offer a guideline to help clients to determine their individual need for reflexology treatment.
Engaging with a new therapy or therapist naturally takes a little getting used to. Some clients are more at are ease during their second treatment having satisfied their curiosity during the first treatment by asking many questions and registering the sensations they experience.
I have seen clients who achieved their desired result after one treatment and others who benefited greatly from a weekly treatment over a period of three to six weeks. Some clients have opted for regular reflexology treatments over a number of months.
During particularly stressful periods I recommend weekly treatments and monthly treatment during times that are less stressful.
A regular attendance by clients does however allow for the best results to be achieved and maintained.
My article entitle '40 Case Studies' is based on the results that were attained at the outset of my career as a reflexology therapist, with observance of my clients progress after a course of weekly reflexology treatments.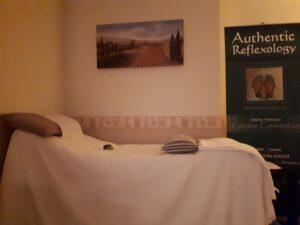 Irish Health Insurers provide cover for reflexology treatments provided by therapists who are registered with professional body of reflexologists. I am a member of Irish Reflexologists' Institute Ltd. (I.R.I.L.).
WHAT IS REFLEXOLOGY? – FIND OUT
AUTHENTIC REFLEXOLOGY LOCATIONS
MAKE AN APPOINTMENT – CONTACT
©Caroline Cunningham
Inspiring your Authentic Path
Follow Caroline Cunningham Art on WordPress.com