Reflexology Treatments How Many do I Need?
A commonly asked question by my clients is 'how many reflexology treatments do I need?' There are a number of factors that determine the answer to this question.
Reflexology is a complimentary health therapy designed to re-balance and maintain your health and well-being. I provide personalised treatment plans for clients who understand that their performance and wellbeing are crucial to their on-going success and that seeking support during stressful or more demanding periods of life is essential to staying focused and maintaining calm.
I offer reflexology treatment plans to help my clients reach their goals whether they are personal or work related or both.

Treatments plans start with a minimum of 4 treatments inclusive of consultations and on-going assessments and wellness support.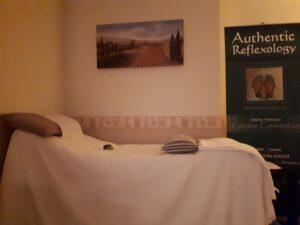 Irish Health Insurers provide cover for reflexology treatments provided by therapists who are registered with professional body of reflexologists. I am a member of Irish Reflexologists' Institute Ltd. (I.R.I.L.).
WHAT IS REFLEXOLOGY? – FIND OUT
AUTHENTIC REFLEXOLOGY LOCATIONS
MAKE AN APPOINTMENT – CONTACT
©Caroline Cunningham
Inspiring your Authentic Path
Follow Caroline Cunningham Art on WordPress.com