Reflexology Balance for Fertility
Conceiving and giving birth to a baby is dream for many couples but for a variety of reasons the path to conception can require the support, guideance and expertise of medical & holistic professionals. The impact of anxiety, stress and pressure of fast-paced lives can make it difficult for mind and body to function successfully, as a result hormones get thrown out of balance, including those essentional for fertility.
Keeping stress and tension at bay have become a priority for couples who want to optimise their fertility and increase their chances of conception. Reflexology therapy has been growing in popularity with couples who are planning to conceive. Some fertility clinics may even recommend reflexology to their clients as part of their fertility plan. Health insurers provide cover for reflexology too s check your plan (if you have one) to see if you can benefit even more.
When adrenaline takes the lead in our biological processes, it can knock fertility hormones out of kilter.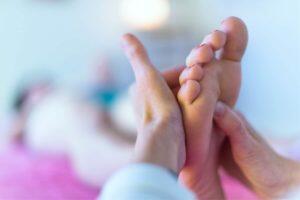 Reflexology has a steadying effect allowing men and women to rebalance mentally and biologically.
Regular treatments can boost immunity and relieve tension.
There is also the emotional stability that can be crucial when couples have had a longer road to achieving their desired news of conception.
It is important to follow a healthy diet and exercise routine throughout your fertility therapy plan
Along with regular reflexology therapy a healthy balanced diet is essential for optimising your fertility. Dr. Marilyn Glenville's fertility nutrition books have come highly recommended. Dr. Glenville's books and videos are available on line, she has clinics in Ireland and UK and is often invited to speak about the importance of nutrition in relation to fertility.
Reflexology pioneer Hanne Marquardt, recommends that reflexology, when required for fertility purposes, should be provided to both partners. I have seen quite a few wise women who, having presented for reflexology for fertility purposes, promptly sent their partner for treatment too.
My therapy practice is mainly in Ireland (Carlow/Dublin 2) – LOCATIONS
Find out more about reflexology – ABOUT REFLEXOLOGY
Your first reflexology treatment – WHAT TO EXPRECT
©Caroline Cunningham
Inspiring your Authentic Path
Well-being Coach, Author and Therapist
Books by Caroline Cunningham
My books are designed to evoke feelings of calm and to encourage people to tackle their anxiety. 'Seven C's to Calm – Reclaiming your Anxiety-free Self' provides tips for self-care and includes a workbook. The Whisperings of Nature provides calm, thought-provoking nature-inspired poems. Click on the book images to go straight to purchase area (Amazon & Feedaread book stores).
QUICK ACCESS TO GALLERY AREAS & BOOKSTORE:
Follow Caroline Cunningham Art on WordPress.com