Hanne Marquardt Reflexotherapy
What is Reflexotherapy of the feet and who is Hanne Marquardt?
Thanks to my studies of the history of reflexology, I already knew that Hanne Marquardt has played a key role in it's research and development.
In the summer of 2014, I enroled in a workshop to discover more about this fascinating pioneering therapist and teacher.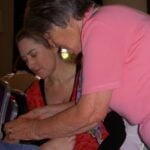 'I'm going to be '80' soon', Hanne informed us at the outset of our two day course. Her eyes twinkled perhaps with curiosity as to what this new age bracket might herald. That curiosity has remained alive and well for Hanne, who as a young nurse and physiotherapist became most interested in the findings outlined by Eunice Ingham in her book 'Stories The Feet Can Tell'.
Eunice Ingham is attributed with developing the term 'reflexology' and with the mapping of the whole body onto reflex areas of the feet. Thus we have a micro-system which reflects the whole person in the feet.
Hanne wistfully reflected on the fact that she actually set out to disprove Eunice's findings. In those early days of investigation, the claims of reflexology were considered quite radical and new.
As I attempted to probe Hanne with my own investigative questions I got a glimpse of how brave she must have been to challenge her pioneering teacher.
Hanne admitted humble defeat in her efforts to disprove Eunice's results. Instead she developed a growing respect for her teacher and the practice of reflexology.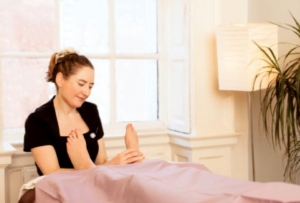 She has earnestly and whole-heartedly, continued its development and practice, fine-tuning the position of reflex areas and treatment techniques according to her own findings and thereby opening the door to her use of the term 'Reflexotherapy'.
Two days we spent with Hanne, eagerly listening as she imparted much wisdom and knowledge interspersed with humour and anecdotes for living simply and fruitfully.
We watched intently as she demonstrated techniques for treating sensitive reflex areas and harmonising holds. We were put through our paces as she challenged us to locate the reflex areas corresponding to scars on the body of the person being treated. We practiced the treatment of scars and all that she demonstrated to us, under her watchful eye.
Thanks to pioneers such as Eunice Ingham and Hanne Marquardt, reflexology has grown to be a highly respected and recognised therapy.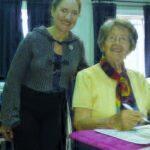 In Germany, however, Hanne has gained even further recognition for her use of reflexotherapy, as she treats 'patients' instead of 'clients', and for 'specific illnesses' rather than 'generally'.
'Always remember', she paused for effect, 'you are treating a person not a body or just their feet but a whole person.' In order not to forget this fact, Hanne urged us to use the term 'someone' as opposed to 'somebody'.
Studying with Hanne as our tutor was a productive and valuable learning experience. As we parted company she urged us to be creative in our practice and to be mindful of the unique potential that exists in all of us.
Have you experienced the benefits of reflexology? Leave a comment below.
This article was listed in the Finals of Ireland Blog Awards 2017 in the category of Best Corporate Article.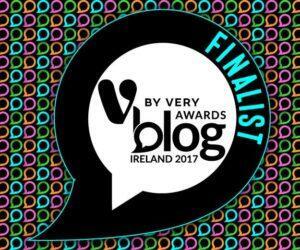 Caroline Cunningham is the owner and therapist at 'Authentic Reflexology'  offering specialist reflexology treatments in Carlow and Dublin (Ireland).
Caroline is passionate about inspiring self-care and authenticity for greater well-being, her clients can benefit from her 20+ years of expertise in developing self-awareness, healing and transformation. Caroline provides well-being work-shops for groups and individuals. Find out about more here – reflexology treatments & well-being workshops.
Caroline is the author of books, genres include self-care (anxiety), and poetry and she provides colourful artwork inspired by nature and travel
VISIT CAROLINE'S ART GALLERY – paintings / art prints
VISIT CAROLINE'S BOOK STORE – poetry / selfcare
SIGN UP FOR AUTHENTIC PATH INSPIRATION
Save
Save
Save
Save
Save
Save
Save
Save
Save
Follow Caroline Cunningham Art on WordPress.com