Wexford Hour - Thanks for your support!
Good fortune is something we can attract by our own good deeds and earnest work. Some experiences however, impress upon us the importance of never taking our good fortune for granted. Thats why I feel gratitude is so important. Today I express gratitude for some of the very supportive networks that surround me off-line and on-line and one that deserves a big mention is WEXFORD HOUR!
#

WEXFORD

HOUR



For those of you who don't use Twitter, Wexford Hour is an account on twitter which aims to promote businesses (many based in Wexford, Ireland) through weekly twitter chats.
The hash-tag #wexfordhour is used so that participants can follow the conversation, as we tell each other about our latest product or service or discuss how our business is going, having some fun and checking in on each other.
It's especially good if you work by yourself, as I do quite a bit, it feels like you have some company along the way. We get a better sense of knowing each other through our weekly twitter chats. Sometimes a few of us even meet up in person,  that's especially nice and strengthens the regard we have for each other.
Wexford Hour is currently hosted by Deirdre Ni Dhubhghaill of 2D Graphic Design @2DGraphicDesign. Wexford Hour is a part of Quickest Fox Marketing which hosts many of Irelands County Hours. Hence I have also good regular support from the good folk in @WicklowHour and @WaterfordHour and from time to time I pop into the some of the other county hours too.
Wexford Hour twitter chat takes place on Tuesday nights 9pm to 10pm (GMT) and they provide opportunity for you to promote your business.
You can contact @WexfordHour via their account or at www.quickestfox.com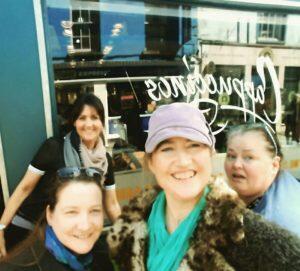 Join in the craic

(as we say in Ireland)

and promote your business with the lovely folk in @WexfordHour on Twitter.
THANKS WEXFORD HOUR AND ALL WHO TAKE PART, FOR YOUR WONDERFUL SUPPORT!
©Caroline Cunningham
Inspiring your Authentic Path
Visit Caroline Cunningham's online Book Store
Caroline provides 'Authentic Reflexology' therapy in Carlow & Dublin (Ireland) & in Algarve (Portugal) – Visit Authentic Reflexology
Simple Guide to CarolineCunningham's Art Shop
Caroline also provides business mentoring via 'Authentic Biz Sessions'
Watch the playback of Caroline's appearance on RTE's Nationwide (National TV Ireland) – Watch Nationwide playback