The Tension of Anxiety - Seven Cs to Calm
Consider for a moment that you are holding the delicate stem of a flowering plant between your thumb and index finger.
What will happen as you apply pressure to the stem, squeezing it slowly between your fingers?
As you apply more pressure (tension), you will notice the crushing of the parts and the wilting of the flower itself as the entire stem loses its structure and strength.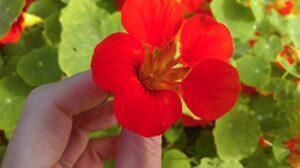 Tension is a symptom I associate with anxiety and have experienced it in parts of my body at times when anxiety was at large. There were times when I just accepted this unease and carried on with my everyday business but deep down I knew this was not something I should be accommodating.
We all experience anxiety from time to time, there are a wide range of symptoms which I will address in additional articles but just for now I am touching on the symptom of tension.
Like the flowering plant, the human body is made up of delicate cells. Each of these cells have  their individual and collective roles of carrying out functions in our body, such as generating energy, eliminating waste, protecting us from infection, transporting nutrients and so much more.
Each part is vital to our well-being. When we feel anxious we sometimes tense or feel un-edge, as we consciously or unconsciously perceive a threat or a situation that we are not entirely comfortable with.
The energy that goes into applying this tension can leave us feeling tired or restless, unable to let go, relax and unwind. In the long-term, like the wilting flower, we render our body to a less efficient state of carrying out its functions. Some may experience what is termed as 'irritable bowel syndrome', digestive issues, difficulty breathing or perhaps endure headaches and migraine.
Relieving anxiety has a lot to do with knowledge, understanding what's really going on and the ways in which you can gain control.
It is largely the business of getting to know yourself completely and addressing the issues that have caused you to succumb to such unease.
The practice of allowing calm to reign is highly recommended and it is certainly advised to seek support if you find it difficult to make a start or get stuck along the way.
If you would like a glimpse into the world of personal empowerment, this is surely the best opportunity to learn from someone who has successfully travelled that road.
You might also like to consider the benefits of a relaxing reflexology treatment, ideal for releasing tension.
I offer treatments in Dublin 2 and Carlow areas on certain days – MAKE ENQUIRY
If you have read my books or receive my updates on the topic of anxiety, consider sharing a recommendation or review below. We grow stronger by supporting each other and spreading the word that positive change is possible for all.

Sign up for Additional Free Anxiety Support
©Caroline Cunningham
Inspiring your Authentic Path
Save
Save
Save
Save
Save
Save
Follow Caroline Cunningham Art on WordPress.com