Nerve Reflexology for Pain Relief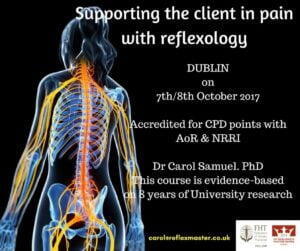 Reflexology or 'zone pressure' therapy (as developed and applied by Dr. William Fitzgerald in the late 1880's and early 1900's), was used to affect local anaesthetic while Dr. Fitzgerald performed minor surgery for his patients.
This is quite significant to note and while perhaps not the most common use of the therapy today, it does indicate that there are quite a lot more applications of reflexology to be explored.
Personally, I have already explored the aspect of pain relief with a number clients. The results have been interesting as sometimes pain relief was attained within minutes, using a combination of alternating pressure on specific reflex points and verbal suggestion or guided visualisation with the client.
In September 2017, I have the opportunity to study with the first reflexologist in the world to attain Doctorate level of education in the field of reflexology therapy. I will be studying Nerve Reflexology with specific application for pain relief.
Dr. Carol Samuel presents her two day training which is based on her own scientific findings and practice of reflexology.
This is an awesome opportunity as I am also a former Science graduate and as an advocate for authenticity, honest enquiry is something I truly respect.
Have you experienced the benefits of reflexology? Would you care to share the benefits you experienced? Got a question about reflexology? Leave a comment below.
Find out more about Nerve Reflexology from the Reflex Master.
Thanks for stopping by!
© Caroline Cunningham I.R.I.L. B.Sc. Deg., Grad. Dip. Tox. H.Dip. Ed.
Inspiring your Authentic Path
Make a booking for Authentic Reflexology – Contact
Check our locations for Reflexology – Locations
Reflexology is covered by Health Insurers once your therapist is registered with a recognised body such as Irish Reflexologists Institute Ltd.

Save
Save
Save
Save
Save
Save
Save
Save
Follow Caroline Cunningham Art on WordPress.com