The Fishermans Mother - Look at me now!
This summer I was reunited with a dear old friend, from the days when I used to work in 'corporate-world'. Only she had the ability to ignite my imagination and lift me from an environment that wasn't suited to my sensitivities.
A cramped office, surrounded by folk who resented being so close to each other, carrying out tasks that they individually felt were beneath their true capabilities, it certainly was a means to an end. Tension was rife at times and lunch time was my only escape from a boss who seemed to think he was the gunman in an old spaghetti western.
A short stroll away from this existence, Irelands National Art Gallery awaited me. A bench situated next to the stately statue, erected in honour of the Gallery's patron and founder William Dargon, offered a peaceful resting place to take my lunch.
Quite a number of years had passed since I had vowed to give more credit to my creative side but I confess, until this time I still felt largely on the edge of a world that included artists and creatives.
These lunch-time visits were a new starting point on that inward journey. I decided to take a deeper look at all that I encountered there.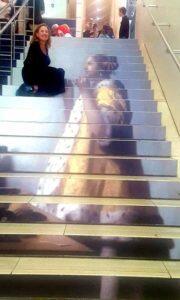 Firstly, I discovered that William Dargon (1799-1867), the great Irish railway magnate, actually hailed from Carlow, my home county. Not only that, George Bernard Shaw who bequeathed one third of his royalties to the National Gallery, also had a Carlow connection on his mother's side. Shaw described the National Gallery as his 'University'. I decided to make it mine.
While I used my lunchtime escapes to explore the entire gallery, bit by bit, there was one painting that became a 'must-see' for me. Looking back now, I think we were in conversations with each other.
Eventually, I left that 'unsuitable' office environment and moved further from the city. My visits were less frequent and eventually the National Gallery closed many of its doors in order to facilitate a major refurbishment project that took at least six years to complete.
Summer 2017, the doors reopened. I went to visit my old friend. I knew she would be there. I went straight to the spot, just like I used to do when I worked nearby.
She had found an new place not far away. I stood before her, 'The Fishermans Mother' with a few fond tears in my eyes. 'Look at you now', it was like we were both saying this to each other. She still had that extra-ordinary glow and wisdom shining through her eyes, just as artist Helen Mable Trevor had captured.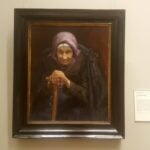 Look at me now indeed! I stood before my old pal realising how much I had achieved since she had last gazed upon me. I was no longer standing at the edges looking into the world of creatives. Here I stood, having exhibited my artwork many times, published books, established blogs, travelled to distant lands and formed excellent connections and networks. Oh, and I became a reflexologist!  (:
I was transported back to those days of standing before my friend 'The Fishermans Mother'. Had she been imparting her message all along? 'I've lived, I know a thing or two, don't be foolish, work hard at the right things, be true to yourself!' I had heard her loud and clear.
I continued on my path around the gallery. It has been given a new breath of life. Apart from the opportunity to revisit your favourite paintings that have been in
storage for quite a while, there are new works, new spaces and the energy is one of pride as you walk amongst the other visitors and the supervisory staff.
I hope you enjoyed my story? Have you been to the National Gallery of Ireland? Do you have a favourite painting or artist there? It would be great to read your comments below.
© Caroline Cunningham
Inspiring your Authentic Path
Are you looking for a special colourful painting for your home? View Gallery
Check out my limited edition prints – View Gallery
Looking for something more affordable artwork? – View Open Edition Prints
A little book of nature poems is a lovely gift idea – Visit Book Store
Looking for a beneficial relaxing reflexology treatment? – See Locations
Save
Save
Save
Save
Save
Save
Save
Save
Save
Save
Save
Save
Save
Save
Follow Caroline Cunningham Art on WordPress.com