Join us in Wexford Hour - February 6th 2018
Thanks to Wexford Hour (aka @WexfordHour on Twitter) for the wonderful prize of sponsorship. I am a regular networker in general and particularly like the support I receive in twitter groups such as #WexfordHour and others.
All are welcome to join in the conversation amongst like-minded entrepreneurs who are keen to support each and share our everyday experiences of life.
On Tuesday evening February 6th 2018 between 9pm and 10pm I will have the opportunity to tell everyone about my books, artwork, reflexology therapy and more.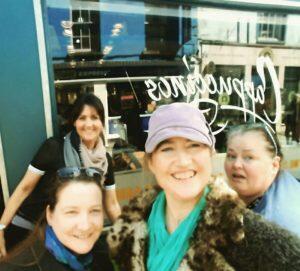 Those following me already, will know that I am someone who left a teaching career in 1999, in the interest of developing my creative talents and self-healing. This wonderful journey has opened many doors and provided me with a wealth of experience to inspire others on their 'authentic life path'.
More recently my services have been requested to help people to 'get going' with learning how to use social media for their small business or personal use. My teaching skills are still being put to use and I do indeed love sharing my knowledge and experience with others.
Join us on February 6th at 9pm to find out more or simply take a look around my site, since you have just popped in and do leave comment below or contact me if you see something of particular interest.
See you in Wexford Hour using hashtags #WexfordHour and #ArtOfCaroline
Thanks for stopping by!
Caroline Cunningham
Inspiring your Authentic Path
Simple guide to online shopping on this site
Follow Caroline Cunningham Art on WordPress.com