Electric Scooter in Algarve Portugal
I first heard of 'E-Go Rider' electric scooter during my Algarve Network Tour in April 2018, a week spent reaching out to the local business community. I had fallen in love with this stunning part of Portugal on my first visit and there there the dream began. I wanted to find a way to live there and continue my work doing stuff I love.
Thanks to that network tour & the people who connected with me, I returned to the Algarve for 2 months during the summer of 2018 with a caravan for my accommodation and the possibility of the use of an electric scooter for my mode of transport.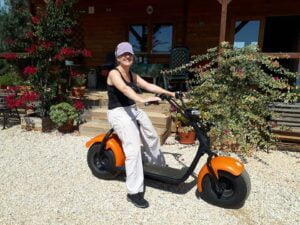 I now wish I had organised some practice prior to my trip, as I was not used to this type of vehicle and I didn't 'take-off' in a confident manner. I was kindly given instead, a state of the art bicycle by one of the 'Ego-Rider' team, for the duration of my 2 month stay.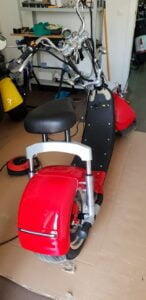 Ego Rider is the brand name of a particular type of electric scooter, being imported from Asia by the owners of this operation in Portugal's Algarve. They test and prepare the electric scooter for the market and provide any necessary maintenance.
Their electric scooter is very 'green' in the environmental sense as it uses only electric power, costing very little to charge them (within 4 to 5 hours) and giving an average range of 40 to 60km. They come in many colours, red, black, white, orange, blue, yellow and green. There are also a few different models with different price ranges (up to €1, 375 at time of writing in summer of 2018).
The EGo-Riders are fitted with security alarm, mirrors and gears. Some have suspension in the front and back and others in front only. There is even a two seater model. They weigh on average 80kg and can be limited to speeds of 25km per hour or a maximum of 50km per hour.
The speed is significant, as the owners explained that in Portugal (at time of writing), electric scooters that were limited to 25km per hour, falling under the same category as bicycle. An electronic vehicle which travels any faster than 25km per hour is required to be registered in the same manner as a motorcycle and must adhere to the same safety regulations with regards to wearing of a helmet.
If you found the information on this scooter useful be nice and leave a comment or share the post. As this is not a sponsored article, there are no links to suppliers or promtors. This is a very popular article so if you are interested to provide sponsorship to promote your electric scooter brand on this post, get in touch. 
© Caroline Cunningham
Wellness Specialist, Coach, Author.