Reaching my goal weight was great but maintaining it was more important - My Story of Weight-Loss
Contained in this article to help you with your wellbeing, is one affiliate link for a nutrient tracker resource which may offer me a small reward for its promotion.
I often asked about the secret to my successful weight-loss. People tell me they have tried many different diet plans and slimming programs which worked for a while but they always end up putting back on the weight they lost.
This got me thinking about my own story around weight and body image. Maintaining a healthy weight was not always easy but gradually I found ways to succeed. This is a genuine account of journey of weight-losss and maintenance.
I am not a nutrition expert and some people may not have considered me to have been excessively obese but there was a time when I wore clothing three sizes up from my current size.
I love food but like a lot of people, I had a tendency to eat mindlessly when stressed or in need of comfort. Keeping my weight under control has been a constant battle, until this year. Within four months I reached my goal weight, my energy level improved and I am enjoy my food more than ever.
This is my weight-loss story, what it was like starting out and how I succeeded in sticking to my goal weight.
In 1999, I experienced burn out from stress of every kind. It was a terrifying and humbling experience that was also my turning point for change. From that moment on, I began to study all aspects of my wellbeing.
I discovered I was riddled with negative beliefs and self-doubt, plagued with anxiety and I had poor body image. I had separated my body from my mind, in an attempt to detach from my emotions. I was acting like I didn't matter at all. My needs and desires were too difficult to attain and presented too much fear so it was better to not have any, that's how I justified it to myself. I had taken to wearing baggy clothing and making sure I didn't stand out too much from the crowd.
Eventually a deep sadness took over and as stress piled on top I crashed hard. In reality it was a blessing in disguise. If this was my worst moment, then it would hurt a lot less to pull myself together and start contemplating what I could actually get out of living.
With the support of therapists and guides who assisted in my development in the years that followed, I began to reclaim the real me. I decided to choose the best life experience possible. I dared to believe that I deserved to feel good, look good, to be dynamic, creative and free. It didn't happen overnight and I could not have done it without the expertise I sought, along with a load of effort and persistence. This was the start of my 'Authentic Path'.
If this was my worst moment, then it would hurt a lot less to pull myself together and start contemplating what I could actually get out of living.
There was no silver bullet that got me into shape, a series of steps and moments of illumination led to my weight-loss and improved well-being. One of these steps involved honouring my desire to be an art-full singer, so I joined a singing school to nurture my innate talent. I had found my purpose. Having a sense of purpose gave me the motivation and inspiration to make the necessary changes for healing and transformation.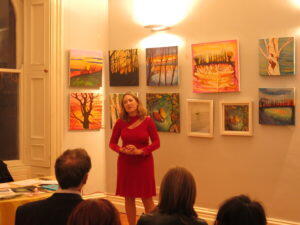 I took yoga classes to counteract my overwhelming reaction to stress. I engaged with talking therapies to deal with emotional issues that had been leading me into dark depressive states. I gave my body the experience of reflexology and massage to encourage the release of tension and to experience being new again. Over time, a more positive attitude and sense of well-being began to accumulate and I liked it a lot.
During that time of transformation, I joined a slimming program. Within 7 months I had reached my goal weight. My new figure caused a bit of a stir, heads were turning and a number of my colleagues started to join the slimming class that I had been attending. I went crazy buying clothes which showed off my new figure. I wore bright colours and dyed my hair red. My hiding days were over.
Over time, a more positive attitude and sense of well-being began to accumulate and I liked it a lot.
I worked hard to progress in my studies and to keep my bills paid through the jobs I took. I was constantly learning about spirituality, world cultures, advancements in science and technology and exploring creative development.
During those years, I kept myself busy and managed to maintain a steady weight, until about three years ago. Life got hectic again. I was entering into new territory in my work and personal life, the spot light was bigger and brighter. I got scared. An area of my life was still being affected by anxiety, if I continued to ignore this fact, all my other work would be in vain. This is what happens when you do this 'Authentic Path' stuff, you come to face to face with your fears and they will not let up until you resolve to fight back.
It was a tumultuous time of stress, anxiety and emotional challenge. My weight slowly returned to where it had been in 1999, before my journey of transformation ever started, I was dismayed. Despite so many successes, here I was losing the battle with my weight. It was no surprise that my sense of purpose was also waning. Some people's sense of purpose comes from being a parent, having and being a loving partner or having a fulfilling job. Having a sense of purpose propels us to attain our goals. But not all dreams materialise the way we desire, even if we have worked hard to make them real. I had two choices, rethink my purpose or shake things up to see if a new pathway would emerge.
I chose the latter. Having sold my home (my second time to do this), I travelled to Portugal's Algarve, to see what opportunities might arise there. In the summer of 2018, I spent two months in a caravan not far from the sea. I took some part-time work, rode a bicycle (in record breaking heat) up and down very steep hills and I volunteered during a fire on the mountain. I shed some pounds with my new survival routine and I had a sense of achievement as a result of my adventure. I had made new connections and friendships in the Algarve and I felt at peace there but with regards to fulfilling my sense of purpose, this I could not ascertain.
I returned home in September and slowly my weight began to increase, until January 2019, everything changed. Within 4 months, I lost a stone and reached my goal weight just as I did at the start of my journey of transformation. So what changed? How did I achieve this amazing result in such a short space of time? It's never one thing but there were some significant things that made a real difference.
I had returned to Portugal in the winter of 2018, as usual alone, but this time with the intention of giving myself a real break. This time I would not be frantically trying to figure out if I could make my life there. I decided to let go of all expectations and just enjoy the beauty of the place and take things as they came along. I would be grateful for the experience, knowing it might be a long time before I could have this opportunity again.
The most amazing things happened before, during and after this trip. New people entered my life, filling me with ideas and possibilities I had never previously anticipated. I became quite tuned in to the fact that these encounters were not accidental. A series of events unfolded, it was like I was being prepared for a part in a show. A friend died tragically during that period, causing me to return to Portugal just a week after my return home. Even through this shock and sadness, it still felt like it was all part of a plan. I was being taken care of by some higher power in every decision I made and in every action I took. I didn't know where it was leading me but I felt a very strong purpose behind it and from this I felt more encouraged and assured that I was on the right path.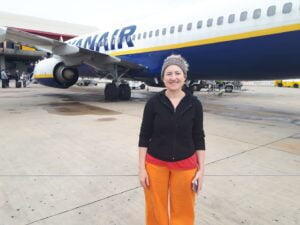 With a renewed sense of purpose and fresh outlook on life, I was ready for real change once more. One of my new friends introduced me to some applications that monitor fitness and nutrition. Without hesitation I downloaded them to my phone and started to implement them. These apps have completely changed my eating habits and exercise routine and within four months of use I am amazed at what I have achieved. The two apps I use are Google Fit and Cronometer and the good news is that they are free.
Google Fit allows me to set fitness goals. It records my move minutes and heart points based on distances I walk and how much I exert myself. It can record other types of exercise too, but walking had been my usual exercise until recently. Now I have started running. I never used to run.
Cronometer is my 'secret-agent' nutrient-monitor; it shows my calorie allowance and my BMI (body mass index) for my gender, height and age. Cronometer also shows me the amount of nutrients I am ingesting on a daily basis in relation to the recommended in-take. For example, if I am not getting the recommended amount of calcium, I need to add extra calcium based foods to my diet to get the balance right. Or I may discover that I am over-doing it on certain nutrients such as carbohydrates and fats, which causes me to adjust my portion size of foods which contain these nutrients.
The Cronometer requires me to weigh every edible thing I put in my mouth. I don't see this as a chore because I am getting good results. I have a small digital scales on my kitchen table which makes it very easy for me to weigh my servings. Having real data before my eyes gives me the power to make the right choices when it comes to healthy eating.

Using the Cronometer has influenced me to eat smaller portions of rice and pasta while increasing my in-take of vegetables and fruit. The Cronometer doesn't tell me what to eat but I have been choosing non-processed foods as much as possible. I have introduced variety as there is nothing fun about eating the same thing every day. For example, I have a breakfast box which I've stocked up with a variety of nuts, seeds and dried fruits. I have hazelnuts, pecans, brazils, linseed, poppy, chia and sesame seeds, dates, prunes and sultanas. I have a jar of porridge oats and I maintain a supply of fresh fruit such as apples, bananas, blueberries, strawberries, melon and oranges. My fridge is stocked with milk and yogurt.
In the mornings, I choose different combinations of these breakfast foods. I weigh my portions and enter the amounts into the Cronometer. One morning I might have yogurt with slices of orange and a sprinkle of sesame seeds and linseeds and the next morning, I could have porridge with dates or bran-flakes mixed with chia seeds and milk.
Cronometer has given me the incentive to prepare my lunch and snacks for days when I am on the move, this means I can more easily stay within my calorie allowance and save some money too. I have started to explore new foods such as quinoa and yam and I experiment with flavours through use of spices and herbs. Instead of boiling my vegetables, I roast them in olive oil so as to retain all the flavour and texture. I still enjoy chocolate and cake treats now and again and the odd glass of red wine but I always stay within my calorie allowance.
Another advantage of using both of these apps is that they can be synchronised with each other. Google Fit tells the Cronometer how many calories I burned during my daily exercise. These calories (kilo-calories) are added to my daily allowance of calorie intake which means I can enjoy more of the food I like.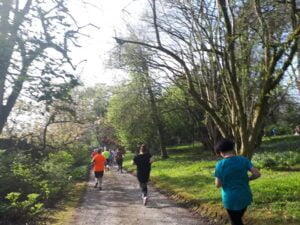 In both apps, I can record my weight as it changes and view a chart that shows my record over a period of time. I usually weigh myself in the morning prior to showering and after I have rid myself of body wastes. I take into account that it's normal for weight to fluctuate slightly from day to day and especially for women going through menstrual cycles.
Consistently using these two apps has allowed me to lose a stone weight (6.4kg) and to maintain that weight by staying focused on what I eat and on my exercise routine. I definitely recommend giving the apps a try. However, if you are serious about maintaining health and fitness you should realise that your mental attitude will play a big part in your success and this ties in with having a sense of purpose. Mind, body, heart and soul need to be working in unison. All aspects of yourself need to shift into a new gear in preparation for success. Hopefully my story has provided some inspiration for your unique Authentic Path to well-being.
Remember, I did not achieve success alone. I sought support for the things that were impacting my mental and physical health. Learning how to deal with anxiety led me to be more confident in the area that had been its trigger. I wanted more people to know that it is possible to overcome anxiety, so I wrote a book to support people who want to do this for themselves. My book is called 'Seven C's to Calm – Reclaiming your Anxiety-free Self.' I also became a therapist of reflexology and I developed well-being workshops for people who want to be empowered to take better care of themselves.
Before embarking on any significant weight-loss programme a person should consult their doctor, especially if there are underlying mental or physical conditions that are impacting their body weight. While I am a big fan of the Cronometer, it does have some anomalies in terms of exact nutrient content of some branded food. The app is constantly being updated and improved with feedback from its users.
Forming new habits and sticking to them is easier when you have an accountability partner or someone who joins you in your new routine. Meeting new people with new perspectives helps to move us out of old ways of thinking and acting. Be open to making some new friends with a healthy outlook on life.
I hope that you will choose the best life experience possible for yourself, achieving and maintaining a healthy body weight and fitness level appropriate to you. If my story has provided you with inspiration, encouragement and support, I urge you to share it with your friends so that more people can find their way to well-being and authenticity.
Caroline Cunningham provides reflexology therapy and inspiration for healthy living at her practice in Co. Carlow and Dublin 2 (Ireland). She is the author of Seven C's to Calm – Reclaiming your Anxiety-free Self and The Whisperings of Nature and is a featured artist in The Dreaming Doors. Caroline provides paintings that inspire Authentic Path and well-being and she writes about these topics in her blogs and as a contributor to magazines and has been a regular speaker on radio and ocasionally on local and national TV (featured on RTE's Nationwide).
Follow Caroline Cunningham Art on WordPress.com