Each for equal, confident, empowered & authentic humans
Here I am striking the 'each for equal' pose to highlight the message of International Women's Day 2020 , The #eachforequal campaign asks us to keep this message alive throughout the year to make a strong collective statement to accelerate change for gender equality.
First celebrated in 1911, International Women's Day is now celebrated globally bringing focus to the achievements of women throughout history and in modern times, acknowledging their struggle to bring about greater gender equality.
As individuals we can influence change through our collective actions, conversations, behaviors and mindsets. A gender equal world can be healthier, wealthier and more harmonious.
What can you do to make a positive difference for women everywhere?
For my part, I am being the change I want to see in the world. I am committed to being a better version of myself, being healthier, more empowered, authentic and fabulous and I can help you to achieve this for yourself too.
My journey towards greater wellbeing and empowerment began after burn-out from stress of every kind in 1999. By burn-out I mean, the moment when I fell apart, the pressure valve blowing, unrestrained sadness taking over, no longer being able to make it look like 'everything-is-grand' on the outside. I look back at that moment with humility and gratitude that I was forced to face my brokenness, my fears, my negative-thinking self. In the years that followed, I learned better self-care strategies, developed a positive mindset and a passion for living. I have faced my fears and achieved things I could never imagined back in 1999.
I am grateful to the men and women who provided guidance and support along my path to authenticity. I believe each person has potential to be a better version of themselves and my purpose is to help people who are serious about making that happen. It starts by looking within. Are you ready to take the test?
Are you happy with being you?
Take a moment to check-in. Close your eyes or look into a mirror. Are you happy with being you? What parts need healing and love? Do you sense a more powerful side of you that needs encouragement to come to the surface? Does that scare you? Are you curious to know your true self? Would you like some inspiration to set your true self free?
When I undertook this exercise after burn-out in 1999, I already knew I needed to change. At first I found this exercise difficult, nothing came but once I got past my impatience and allowed calm to prevail I started to get inklings of a part of myself that was seeking to be acknowledged. I stayed with those thoughts and eventually I sensed the power of being a woman, one who is strong and not afraid of what others think of her, one who is daring, confident and free.
I quickly got my paints and brushes and created my impression of that powerful woman before she could become a distant memory. I called her Break True.

Caroline Cunningham Authentic Path Inspiration
Today, Break True is instantly recognised by people who have triumphed over adversity, people who have dared to step into their power. I have seen people stop in their tracks as they approached this art piece during my art exhibitions and one person even cried. Break True has become a symbol for transformation and empowerment and encourages you keep going on your authentic path. The journey never stops because our potential for improvement is limitless.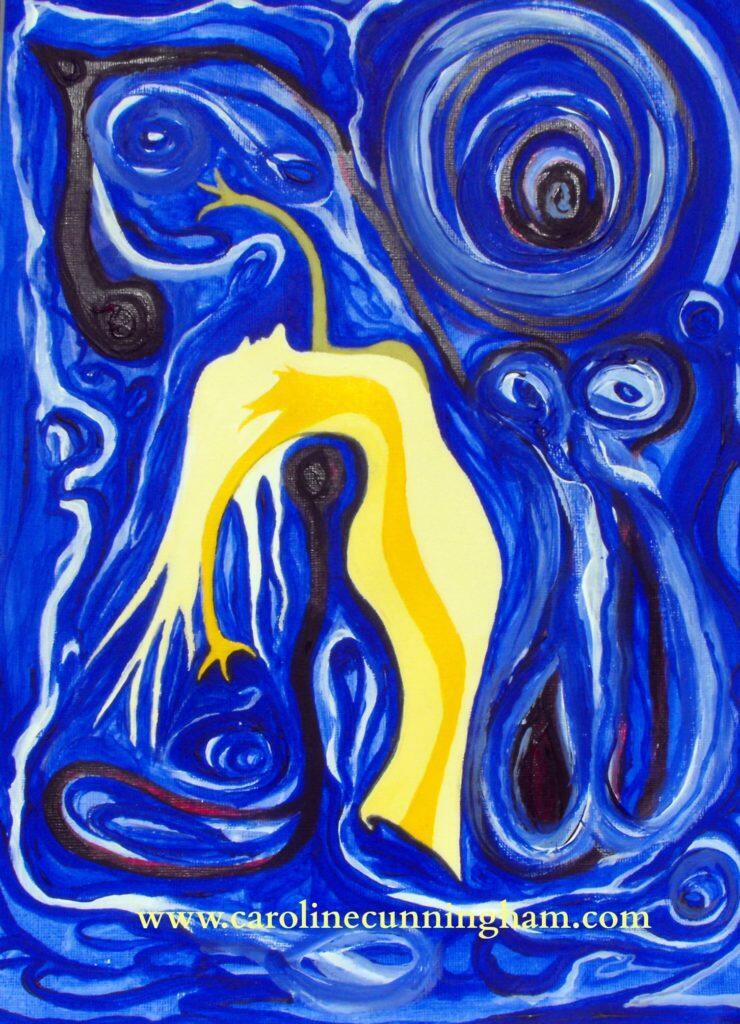 'Break True' is a limited editon giclee art print, presented on archival hannemulhe paper, complete with certificate of authenticity, signed by the artist and ready for worldwide delivery.
Testimonials
Follow Caroline Cunningham Art on WordPress.com