Finalist in Ireland Blog Awards
Great news! My article 'Autism – Reflexology Offers Calm' is a finalist in Ireland Blog Awards 2018 and is listed in the category Best Business Blog Post!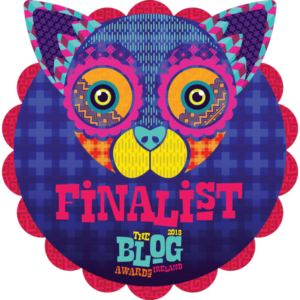 I appreciate getting to the Finalist stage of the Blog Awards competition very much and particularly for the following reasons:
The Blog Awards allow me to show-case my skill as a writer amongst my peers, including those who are more specially qualified in marketing and business.
I only started to blog (write on-line articles) in 2013. From my first entry to the Blog Awards in 2015 my blogs and articles have featured in several categories (health and wellbeing, travel)  at finalist and short-list stages of the competition, including business and personal sections.
My finalist article this year puts the spotlight on autism and shows how reflexology can be a huge benefit to those living with autism, including their families.
When I experienced 'Break True' in 1999 and left my teaching career, I never imagined that I become a Finalist of Ireland Blog Awards as a writer/blogger (and that is not the only talent that has been developed since then).
Naturally, I am delighted with myself and I have every right to feel this way, no begruder can take that from me. But I have a much more important reason for writing this article.
My point is this,  if I could rise from a place of no longer believing in myself and over-coming many fears, to develop and demonstrate more of my innate talents and spirit, then it is definitely a fact that many more can do the same.
Getting by in life on a low-grade feeling is not what any of us really want.
Getting by in life on a low-grade feeling is not what any of us really want. We want to feel alive and usually we want to feel that our life matters, that we have purpose. I went in search of that purpose (starting out in 1999), I call it my 'Authentic Path'. I have had many adventures and challenges as a result.
Ultimately, you must decide what you really want in life, not what you think others want from you. The next step is finding ways to move towards what you want to achieve or experience. For many people following their 'Authentic Path' will involve much healing, moving beyond limiting beliefs and bringing body and mind back to balance. It will involve constant learning and may involve developing new skills and talents. It can sometimes involve travel but it will most definitely involve listening to your heart and becoming a better version of yourself.
While I am still learning, I am also capable of using my teaching, caring and creative skills to help others in numerous ways on their 'Authentic Paths'.
I can help you if you are someone who needs:
healing through reflexology
inspiration for your own self-care practice (e.g. workshops)
to get started as a creative or therapist in business and would like to build confidence and knowledge around promoting your work (social media and blogging)
 to express yourself better through writen or spoken word
Inspiration through art creations and  books
By supporting each other, we grow stronger. Each person who steps forward to make positive change in their life, has the capacity to positively affect their wider community. Our work in this regard is invaluable. Let's work together to make this a reality for many more. Get in touch to find out more about how I can help you or someone you know on their path to authenticity and well-being – CONTACT
©Caroline Cunningham
Inspiring your Authentic Path
Find out more about how I can help you:
WELL-BEING TREATMENTS & WORKSHOPS
Follow Caroline Cunningham Art on WordPress.com