Who's your favourite artist?
Who's your favourite artist? I asked a friend this question once and he promptly answered 'YOU'! I loved his swift response I have to admit. But seriously, who is your favourite artist? There are many I have yet to discover but I can give you an insight into a few of the artists who made an impression on my artistic development. I'm talking in terms of visual arts and painting in this regard.
Irish Artist Jack B. Yeats (1871-1957) works are fascinating to me and many are displayed in Irelands National Art Gallery. It was his later 'expressionist' works that intrigued me the most. I loved his experimental approach with paint and disregard for rules. The paintings possess the formulation of stories in colours and textures which are enticing and arouse curiosity. I love that you have to move around to assess all the different perspectives of his work. Jack's paintings have fluidity and a daring attitude which I find most appealing. Paintings that are most vivid in my mind are 'Morning in a City' (c.1937), 'About to Write a Letter' (1935) and 'The Liffey Swim' (1920).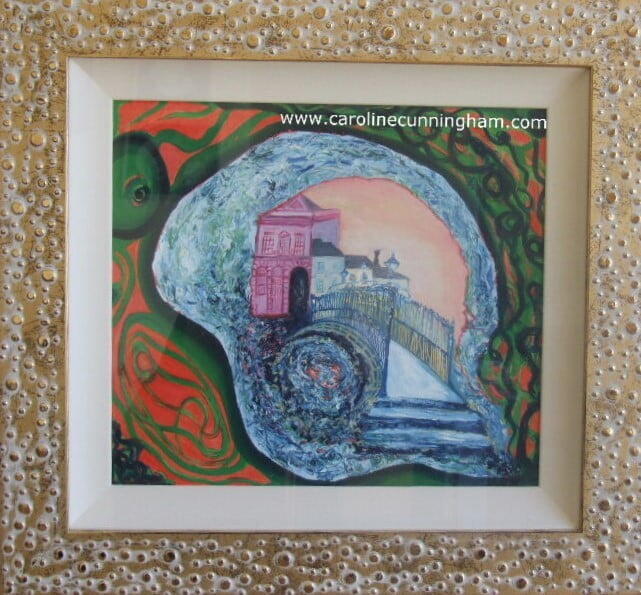 At the turn of the millennium a new wing of Ireland's National Art Gallery officially opened its doors and celebrated with a special hosting of the works of The Impressionists (1860s-1880's).
My eyes were like new as I cast them upon these famous artworks for the very first time. Paint and colour never seemed so alive. The visual experience was so vibrant it felt like these paintings had been delivered, freshly made from a heavenly place.
The experience of seeing Monet's paintings in real life instilled in me sense of what it means to be a 'Master'. Here was the example of dedication, absolute attention to detail and true conviction of what could be achieved regardless of what anyone else thinks or says.
This group of painters were true to their hearts rather than the accepted 'art norms' of their society. I use their enduring legacy to remind myself that society does not always recognise the masters that are rising in their midst.
'The Kiss' by Gustav Klimt (1862 – 1918) inspired me to take a trip to Vienna to visit a gallery dedicated to his works. I was not disappointed. I was struck by the sensuality of Klimt's works, the rich shimmering gold displays and the intricate designs, adorning the lofty feminine forms. As for the women portrayed in the paintings, I have to say I found them somewhat intimidating and remote. I couldn't explain my reaction but at that time I had much misunderstanding and confusion with regards to the ways in which the world appeared to perceive and react to women.
There is one painting of Picasso's (1881-1973) that is fresh in my mind even after many years of having seen it for real. I am not a fan of the 'Cubism' artistic style which Picasso inspired. Until I visited the Picasso museum in Barcelona, I had not considered Picasso as a colourist. The portrayal of 'The Roofs of Barcelona' (1903) remains strong in my mind. This was the stuff of dreams, imagination and simplicity.
This was the stuff of dreams, imagination and simplicity.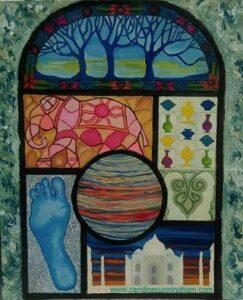 Harry Clarke (1889-1931) is a remarkable Irish artist who started in book illustration and transferred his genius imagination and unique style to staining glass windows. Harry's life was short-lived due to illness but he leaves a legacy of beautiful works which can be found in Ireland and world-wide. The Hugh Lane Gallery in Dublin is the home of 'The Eve of St. Agnes' (1924), a stained glass window which was originally commissioned for the private home of Harold Jacob (the owner of famous biscuit factory in Ireland at that time).
As Harry Clarke loved themes of fairy-tales and poetry, it was finally agreed that the theme of stain-glass window would be based on a poem by John Keats entitled 'The Eve of St. Agnes'. Harry Clarke creates imaginative fantasy worlds that are truly magical. There is so much detail in his work which surely required complete immersion in its execution.
These are just a few examples of my artists and paintings that made an impression on my artistic development. I have written about my experiences of their work in a non-academic fashion. It is my wish to encourage more people to voice what they like about certain styles of art from the point of view of how it makes them feel rather than being told how it is supposed to make them feel.
Who is your favourite artist? Or do you have a favourite painting? Let me know in the comments section below. Please share my article (that would be extra kind).
Thank you for reading.
© Caroline Cunningham
My paintings are available via my online gallery and shop

– VISIT GALLERY

Limited Edition Prints: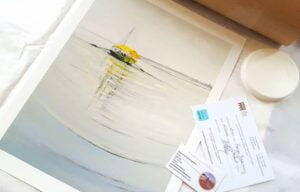 Limited edition art prints provide a high quality affordable option for you to obtain an original Caroline Cunningham art piece. Only five of my art works are available in limited edition form.
Limited Edition of 150
Giclee print on Hahnemuhle, German etching paper
Archival inks
Titled, numbered and signed by the artist
Signed Certificate of Authenticity (includes matching stickers with numbers x 2)
Price includes free worldwide shipping
EULL DETAILS OF LIMITED EDITION ART WORK VIA ON-LINE GALLERY
Follow Caroline Cunningham Art on WordPress.com