Loves Light Upon Us - The Story
Childhood memories have a way of nudging us to return to those special places now enshrined in faded photographs. This was my curiosity for making a trip to Glengarriff in West Cork some years ago.
It's an area steeped in beauty, with a tropical micro-climate favouring trees and plants not commonly found in Ireland. In addition, Glengarriff boasts a thriving oak wood forest park.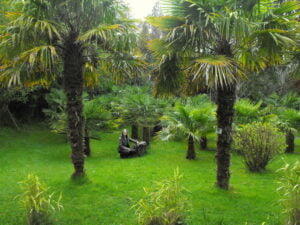 I have always loved trees for their comforting presence and benevolence but I was never so taken to photographing them, as when I was weaving my way amongst the palms, bamboos and luscious plants of Glengarriff's Bamboo Garden.
This was the moment when I knew I would paint trees!
To confirm my thoughts, I discovered two little leaves sitting on a stone beneath the canopy with the sunlight bursting through.
As those little leaves prepared for decay, they appeared glorious in that golden light. I captured that feeling in my heart and saved it for when the time was right to create the full collection of paintings entitled 'The Sacred Lives of Trees'.
Rome was not built in a day you've heard that saying surely. I was very much at the start of discovering my artistic abilities and had not yet dared to expose myself to the world in that way. It took a little longer than I expected.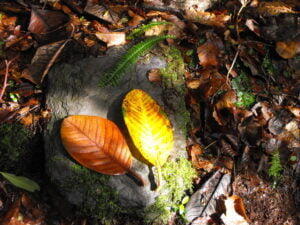 I didn't know it then, but at the end of that year 2009, I was to take a trip to India and that was to be the trigger for taking those first steps as an artist. As a result of that trip, my 'Indian Heartway' collection was created of which, 'Ganga Dreaming' art print remains the most popular piece.
'Loves Light Upon Us' is my signature painting from 'The Sacred Lives Of Trees' collection, honouring Nature and trees as a source of wisdom, comfort and inspiration. It is available as an original acrylic painting and also as a limited edition giclee print.
You can view the full collection of the Sacred Lives of trees by visiting the gallery – visit gallery
To become the owner of 'Loves Light Upon Us' original painting – Go Shopping!
To purchase 'Loves Light Upon Us' limited edition prints – Go Shopping!
This painting and art print are a lovely addition to your home and make for a thoughtful gift for a family member or special friend.
Have you been inspired by trees or have you seen these wonderful tree gardens in Glengarriff? What's your favourite of my art prints or paintings? I love to hear my readers impressions?
Thank you for stopping by.
©Caroline Cunningham
Inspiring your Authentic Path
Save
Follow Caroline Cunningham Art on WordPress.com