Mind The Gap
'Mind The Gap' painting and its accompanying poem, were commissioned in March 2015, a few days prior to the celebration of Irelands Patron Saint. St. Patrick's Day is celebrated by the Irish and their descendants world-wide. The Carlow Association of New York invited its London counterpart to join them in the celebrations that year, along with a number of people from Carlow.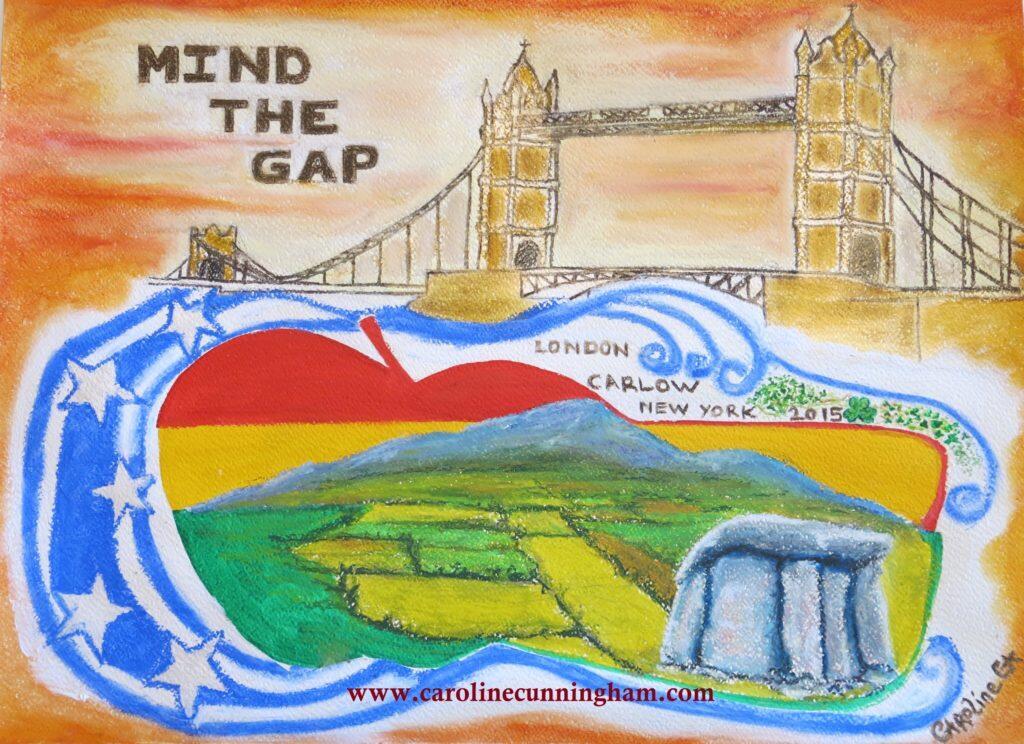 It was John Nolan of Carlow London Association who made the call to commission this piece which subsequently was christened 'Mind The Gap'. I am told the phrase was well used during the weekend of St. Patricks Day celebrations, replacing all greetings and salutations with a resounding 'Mind The Gap!' We are still using the hashtag #MindTheGap.
It was a very exciting project to be involved with as an artist. Within a few days the painting and poem were dreamed, assembled and presented in New York by the end of the week.
These are magic moments. I especially love projects that strengthen bonds between people and places, bringing us all more closely together in friendship and unity.
Mind The Gap
Red, yellow and green hail
The majesty of Mount Leinster and its graceful fields
Far from the sight of it, I am mindful of the gap
The promising stars and rewarding apple of New York
Remind us of our connectivity,
As we observe the same constellations
And are nourished by one Earth.
From London Bridge the Thames joins the water
Flowing from the Hudson, Barrow and Slaney.
Water represents our emotion,
Our passion and love for Carlow.
Our connection is deepened by reminders
Of people who made Carlow their home five millennia ago,
Through the Dolmens they created.
I present a piece of Carlow.
Mind The Gap!
Copy right of  this Art work and written text remain the property of the artist – Caroline Cunningham
To purchase an art print (or customised art product) of 'Mind The Gap' visit – Fine Art America Gallery & Shop
© Caroline Cunningham
Inspiring your Authentic Path
Guide to shopping on Fine Art America – Caroline Cunningham Life Style Gifts
Simple Guide to On-Line Shopping – Caroline Cunningham Art & Books
Follow Caroline Cunningham Art on WordPress.com