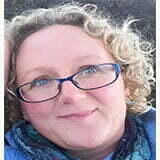 A Great Affinity with Earth & Humanity
I love Caroline's art which conveys a peaceful, deep understanding of the essence of place, through colours, fluid shapes and perfect light, evoking smell, time of day and her connection with nature.

Caroline is also a talented writer, sharing her experiences in an easy to read style. Her honesty and interest in the simple, everyday details and lives of other cultures is compelling and revealing. She shows a great affinity with humanity and the earth we inhabit.
Sinead O'Gorman, Historian & Actress, Wexford, Ireland