Ganga Dreaming - The Call Of India
A life-changing travel experience, has this been a feature of your life's journey?
One such experience was my visit to India as we entered the year 2010. India accosted my senses from every angle and compelled me to go with its helter-skelter flow.
I returned home with a clearer sense of purpose, less inhibited than ever before and prepared to host my first solo exhibition entitled 'Indian Heart Way'. These eight paintings in my first ever art collection, depicted 'a journey through India via the heart of the journey-maker'.
The exhibition was well received and the paintings now reside in homes in Ireland and overseas. People marvelled at the sense of place and time which the collection portrayed, one person said the paintings also evoked the smells they had encountered on their own journey through India.
The painting most sought after and admired from this collection is Ganga Dreaming. That little boat on the Holy River aroused much curiosity and wonder. This painting captures my most special memory of India.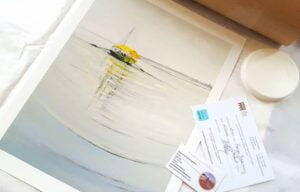 I spent three days on that little row boat, camping in the night time along the banks of the river. It was magical and so peaceful there. Not many boats to be seen, just the Indian people in colourful clothing washing themselves and their clothes at various spots along the rivers shore. Kingfishers and dolphin-like creatures appeared to us, while ever-present was the hazy fog that is typical at that time of year.
In the night time we heard the jackals roaming in the distant hills, while drumming in a far off camp kept company to the stars and served a sense of peace to receptive ears.
On New Year's Eve our group arrived in Varanasi 'City Of Light', in time for party celebrations. To travel on India's Holy River was a privilege and the highlight of my trip and I'm fortunate to have captured that memory for all time.
Ganga Dreaming, now available as a limited edition giclee print, is still the most sought after of all my art creations. That memory has been enshrined in the ripples of the water, the bright sails of the river boat and the curiosity of its destination.
For details of Ganga Dreaming limited edition print (which comes with certificate of authenticity) visit my on-line store – Visit Store
Is there a destination that has changed your life or inspired you do something new? Share your comments below. Thank you for reading (:
© Caroline Cunningham
Artist, Author, Wellbeing Coach
Save
Save
Save
Save
Save
Save
Save
Save
Save
Save
Save
Save
Save
Save
Save
Save
Save
Follow Caroline Cunningham Art on WordPress.com