Art Gifts & Books for Christmas & All occasions
Especially for the person who buys the most thoughtful gifts for others for occasions such as Christmas, birthdays and anniversaries. And for the person who likes to surround themselves with colour and comforting nature inspiration.
My artwork and books allow you choice and variety of unique, creative gift ideas for all occasions. You can spend as little as €5 or upwards as far as €500, every purse is catered for.
I provide books of poetry and self-care along with colourful paintings on themes of nature, well-being and travel.
Books:
My books are designed to evoke feelings of calm and to encourage people to tackle their anxiety. 'Seven C's to Calm – Reclaiming your Anxiety-free Self' provides tips for self-care and includes a workbook. The Whisperings of Nature provides calm, thought-provoking nature-inspired poems. Click on the book images to go straight to purchase area (Amazon & Feedaread book stores).
Open Edition Prints:
The most affordable way to obtain an original art print of mine, with options for customising lifestyle items such as phone-covers, tote bags and even personalised greetings cards. The beauty of this option is that you get to choose the size of the art print and the format (e.g. paper or canvas options) and ultimately you choose within your budget.
| | | |
| --- | --- | --- |
| Lifestyle art products on Fine Art America | Rathvilly after the Rain – Art Print | Winter Robin Art Prints & Lifestyle Gifts |
VISIT MY OPEN EDITION ART GALLERY
 Having an on-line shop means my art work and books are available world-wide

PayPay is the trusted payment method used via my on-line shop.
Limited Edition Prints: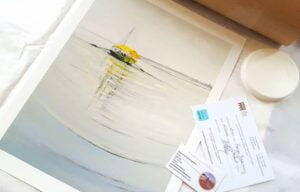 Limited edition art prints provide a high quality affordable option for you to obtain an original Caroline Cunningham art piece. Only five of my art works are available in limited edition form.
Limited Edition of 150
Giclee print on Hahnemuhle, German etching paper
Archival inks
Titled, numbered and signed by the artist
Signed Certificate of Authenticity (includes matching stickers with numbers x 2)
Price includes free worldwide shipping
SEE FULL DETAILS OF LIMITED EDITION ART WORK VIA ON-LINE GALLERY & SHOP
Paintings:
In my on-line gallery you will find a selection of paintings on a variety of themes such as My Portugal and The Sacred Lives of Trees. I provide a selection of my available artwork below but you can see the full gallery by clicking the links provided. Some pieces are framed. Details of each piece are provided in my on-line gallery shop, which uses secure PayPal payment system. Delivery can be facilitated world-wide.
| | | |
| --- | --- | --- |
| Lisbon Tree (My Portugal) €170 | Sunrise Tree (My Portugal) €170 | Molhe Algarve (My Portugal) €170 |
VISIT GALLERY TO VIEW FULL COLLECTION OF MY PORTUGAL
| | | |
| --- | --- | --- |
| Volcanic Tree Framed €170 | Amber Tree Framed €170 | Loves Light Upon Us €500 |
| Treedom €500 | Symphonic Trees €500 | Labyrinth €500Edit Post |
VISIT GALLERY TO VIEW FULL COLLECTION OF THE SACRED LIVES OF TREES
FOR ADDITIONAL PAINTINGS…. VISIT GALLERY
Be sure to allow plenty of time for your order to be processed prior to the gifting season.
QUICK ACCESS TO SHOPPING:
Greetings Cards & Open Edition Prints
© Caroline Cunningham
Inspiring your Authentic Path
Save
Save
Save
Save
Save
Save
Follow Caroline Cunningham Art on WordPress.com