Authentic Reflexology Client Testimonials
Katie Dunne, Tullow, Co. Carlow – Calming & Super Knowledgeable
My reflexology treatment was very relaxing and calming. Caroline's observations encouraged me to make small changes in my day to day living. Caroline is very friendly and super knowledgeable. I highly recommend her wellbeing services.
Claire, Dublin – Incredibly Relaxing (Home Treatment, Cancer Care)
I found Caroline's reflexology treatments incredibly relaxing and I really looked forward to her visits while undergoing chemotherapy. Caroline has a lovely friendly personality and the option of home visits was fantastic.
Maria Muffat, Dublin – Motivation & Focus (Runner)
The reflexology treatment was wonderful! It was just what I needed. I started running again which I always enjoy but I had lost my motivation for a very long time. So, the next day knowing I had two hours free I just started jogging all along the west-peer and surroundings. Felt great and focused afterwards.
S. Lynch, Dublin – Energised & Fewer Headaches
'I have been feeling really good since my reflexology treatment, more energised and motivated. My tummy seems to have settled and I have fewer headaches.'
Colette Coughlan, Dublin – Stress-free Zone
Caroline is an excellent therapist with extraordinary skills. The healing element is vital but she manages to put her clients in a total stress free zone. I adored the chimes as the music played by some therapists can be so very distracting. Caroline has healing hands and I felt excellent afterwards
Angela Doyle (Gem Holistics), Carlow – Kindness & Listening Ear
I recommend Caroline for her relaxing reflexology treatments her kindness and listening ear.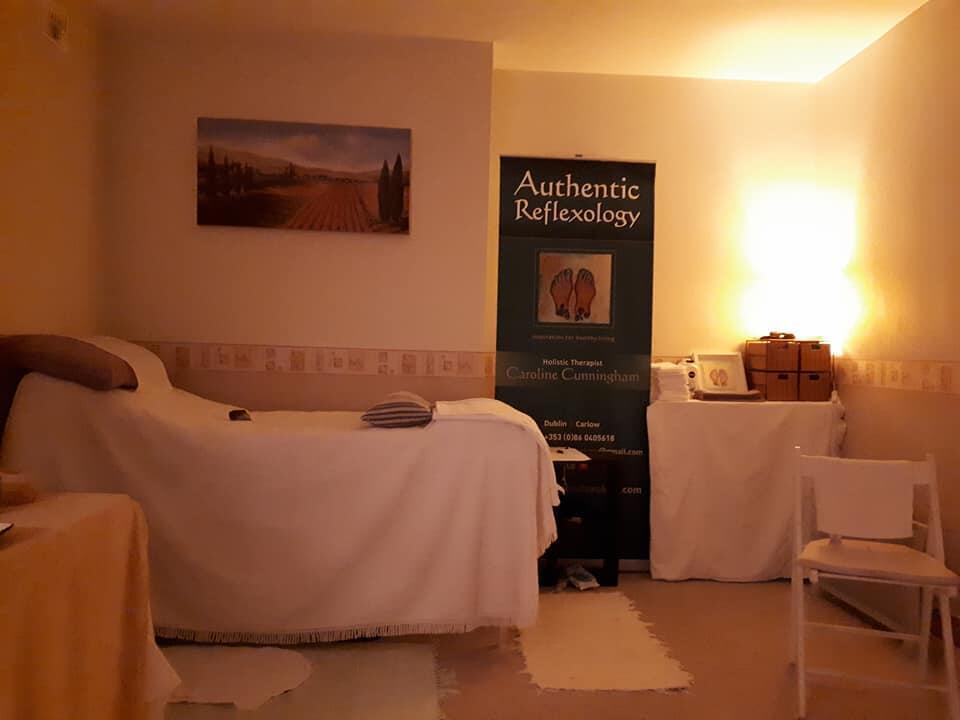 Anne Francis, Co. Carlow – Soothing Healing Energy
I recommend Caroline for her soothing reflexology, reiki healing energy and her colourful artwork.
Melanie, Dublin – Feeling at Ease
Caroline is very approachable and knowledgeable. I found the reflexology good for overall health and feeling at ease within myself. I felt more focused, energised and motivated as a result of a course of treatments.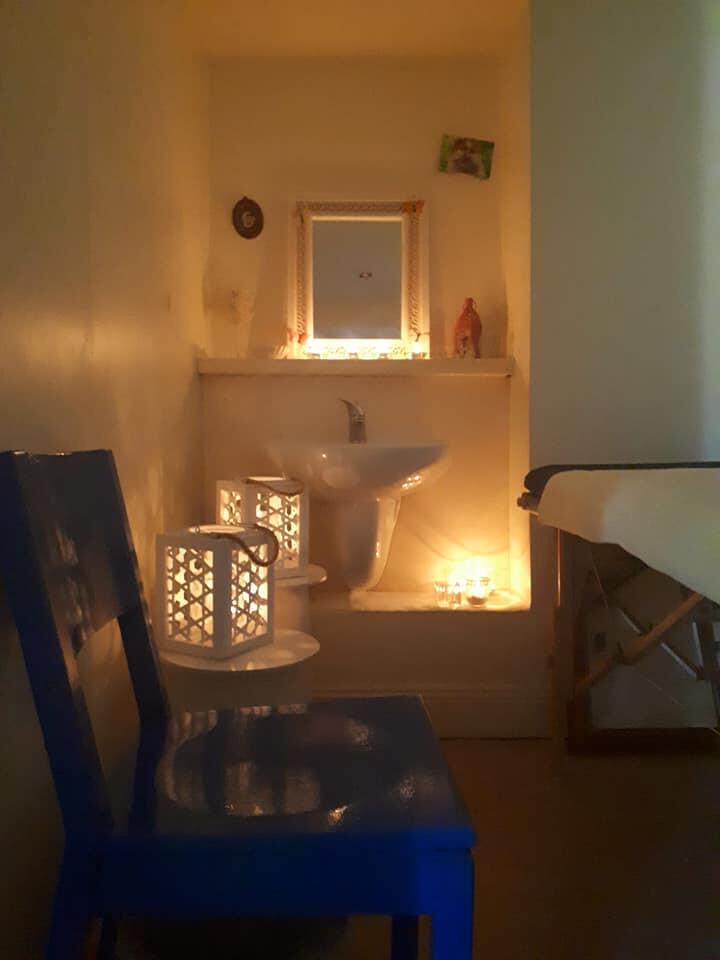 Hazel, Dublin – Helpful physically & emotionally
The reflexology treatments were helpful both physically and emotionally. Caroline is an experienced therapist with a friendly attitude and good advice, I highly recommend her as a therapist.'
Angela, Carlow – Pamper Party Tailored to our Needs
I found Caroline by chance and I'm so glad I did. What a magnificent lady! Caroline exudes tranquillity calm and serenity naturally. She provided an extremely professional yet personal reflexology experience for a reflexology pamper party in my home. My mother-in-law and her sister were coming to visit and I wanted to do something different for us all. In a matter of minutes, Caroline converted our spare bedroom into a therapy room, complete with music and candles. Each treatment was tailored to our individual needs. It was a superb relaxing, pampering, holistic experience. I highly recommend Caroline for your reflexology therapy needs.
Clare Greville, Kildare – Parent & Child Workshop
I attended Caroline's parent and child workshop with my five year old son. Caroline was incredibly kind and quickly put us at our ease. She patiently demonstrated a range of techniques that I could use at home specific to my son's issues. She ensured I was comfortable in the technique and provided detailed notes that I could refer back to. My son's symptoms have eased and he loves his nightly foot rubs!
A. O'Shea, Carlow – Tummies settled & sleeping better
I brought my two little boys to Caroline and she was fantastic with them and with me. Caroline showed me how to do some home treatment with my boys and it has helped a lot as they sleep better and their tummies have settled.
Anna Scheller U.S.A – Walking on Air
Thank you so much for reflexology! Before treatment I was tired and my feet hurt from walking around. Afterward, I felt so much more energetic, I felt like I was walking on air and the swelling had gone down in my broken arm.
The next day, I had a 10 hour flight. I was anticipating a lot of discomfort with my arm. To my delight, I was nearly pain free throughout my travels. Reflexology really works!
I highly recommend Caroline for Reflexology. She is gentle, but she works miracles!
Anna is the Author of Amazon Best Seller "Black Belt Selling: Closing with confidence
Rachel Nolan (Yogiberry) Carlow – Authentic Path Inspiration
I recommend Caroline Cunningham to anyone seeking the path of authenticity, whatever way that manifests itself. I've heard nothing but exceptional reviews of her reflexology therapy, as a seeker of the light myself, I find Caroline very inspiring.
Mairin O'Rourke, Co. Wicklow
I recommend Caroline for her creativity and ability to open one up to wider possibilities in life. Mairin O'Rourke, Co. Wicklow
Wellness Coaching for Groups or Individuals
Caroline's four week well-being workshop opened my eyes and made me realise the importance of having time for myself. I cannot help anyone else if I cannot help myself – Mag, Co. Carlow
I really enjoyed the workshops and would like to continue. I learned how to relax more and to listen better and I made new friends. I highly recommend Caroline as a facilitator. – Katrena Blake, Hacketstown
I really enjoyed this four week well-being course – Sarah, Hacketstown, Co. Carlow
Follow Caroline Cunningham Art on WordPress.com