Amongst Trees - A Lesson in Living Gracefully
It's got a lot to do with shape and movement of the lines, that thing that captures my imagination when I observe the beauty of trees. It's like reading body language. The twists and turns or the stretching out of tall exuberant branches, there's a story in every nook and hollow of a tree.
Science can tell deeper tales of the lives of trees and the environments they've experienced. There is so much more to be discovered if we just allow the process of being present with nature, precisely why I love being amongst trees.
Switching off is something we need to do from time to time. Being present is something that takes practice especially if anxiety and stress have taken hold of our reins. Finding the right company is not always easy as people are so busy keeping on top of their own stresses and strains.
Being amongst trees there's a lesson in living gracefully. If you allow your senses to come alive to it you may feel the powerful connection of the earth through the roots below. Consider too the exchange of gases cleansing our atmosphere as the tree performs its own style of breathing in and out.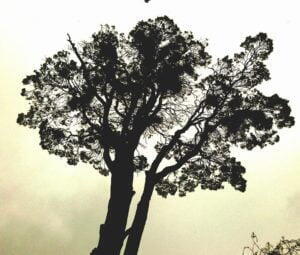 Here you have an intelligent system of which we are a part. Amongst trees you can nurture a sense of balance, security and restoration of energy.
'Altamont Tree' painting is inspired by a tree near the lake in Altamont Gardens, near Tullow, Co. Carlow. It is part of the collection of paintings entitled 'The Sacred Lives of Trees'.
Altamont Tree is available as an original (framed) painting and also as a limited edition giclee print.
Purchase the Original Painting.
Purchase Limited Edition Prints.
What your favourite location to be amongst trees?
Thank you for stopping by.
Caroline Cunningham
Artist, Writer, Authentic Reflexology (Founder).
Save
Follow Caroline Cunningham Art on WordPress.com