The Feng Shui of Ganga Dreaming Art
Guest Blog Testimonial thanks to Gloria Mc Breen of We are Holistic:
When my husband and I bought our new home last year we were very excited indeed. It was all we ever wished for in a home for our little family. We wanted it to be filled with positivity, nice vibes and free flowing energy. Since we both believe in the power of positivity and the importance of balance, it was easy for us to work together to create our happy bubble using some basic elements of feng shui.
I couldn't wait to move in and start organising everything, but I was extra excited about my Seomra Sona (Happy Room). It was my place to relax, practice yoga, play music and most of all, my quiet place to write without distraction, apart from the beautiful view of the River Moy and Mount Nephin.
As Seomra Sona was to be my haven, I wanted to buy something really special for it. I knew straight away what that something special was going to be!
I had been admiring Caroline Cunningham's art for a while. I fell in love with her collection 'The Scared Life of Trees'. The trees come to life in Caroline's paintings, the warm vibrant colours are spectacular. I wanted my husband to help me choose one so we visited her website to browse through her wonderful artwork, hoping we would both agree on the same piece.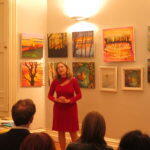 With intentions of buying from The Sacred Lives of Trees, we got completely side tracked and ended up buying Ganga Dreaming. We were both equally drawn to it and although I felt that I had betrayed the trees, my heart was with the boat, as was Stephen's. We both love boats of all shapes and sizes.
In feng shui, a sailing boat encourages productivity, bringing success and prosperity with the wind and waters.
When I look at a boat I see calm peaceful waters that can take me away from the hustle and bustle of everyday life. Ganga Dreaming has that calming and peaceful effect. It's also mysterious and a little bit quaint. The bare mast caught my eye before the oars did, which is why I like to think it's a sailboat rather than a rowing boat.
In feng shui, a sailing boat encourages productivity, bringing success and prosperity with the wind and waters. Even more prosperous is a ship filled with gold. The Ganga Dreaming boat may not be filled with gold coins, but it looks like a floating treasure chest with its beautiful golden yellow canopy.  It is also believed that the more you feel connected to your boat the more it will work for you.
In Feng Shui the placement of the boat is very important. The front of it needs to be pointing towards the inner part of the room so that it takes abundance into your life rather than take it away. It is also good to remember that abundance and prosperity don't always come in the form of money. A life can be rich in so many other things that make for a happy peaceful home.
It gave me great pleasure to deal with Caroline Cunningham. She is a genuine soul and very professional in what she does. Her passion for wellness and nature, especially for trees, shines through her work. She's a wonderful artist who deserves recognition and success.
Message from the Artist:
Thank you to Gloria Mc Breen for taking the time to provide this wonderful tribute to my work and for honouring Ganga Dreaming with a pride of place in her Seomra Sona (Happy Room).
Gloria is a genunine, caring, holistic therapy practicioner basedin the west of Ireland. Like myself she is also a writer and has many interesting articles to share with you – visit her website – We Are Holistic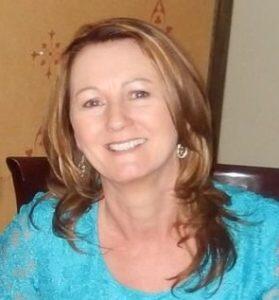 Ganga Dreaming is available as a limited edition print. It depicts a journey along the Holy River in India, during my travels in 2010. You can find out more about that special trip and the painting it inspired by visiting my art blog –The Story of Ganga Dreaming.
Ganga Dreaming (original painting sold) is my most popular limited edition art print. It makes for a very special gift and as Gloria has stated, a lovely addition to your home.  It can be shipped worldwide rolled in a tube and comes with a certificate of authenticity.
To purchase your Ganga Dreaming limited edition art print – Visit Gallery Shop
© Caroline Cunningham
Inspiring your Authentic Path
Artist, Author, Authentic Reflexology Therapist
Follow Caroline Cunningham Art on WordPress.com