Art Exhibition: From the Ocean to the Tree
Join me in the Shaw Room of Carlow Library between Tuesday October 1st and Friday 11th October (2019) to view my art exhibition entitled 'From the Ocean to the Tree', a celebration of the influence of nature on our capacity to feel well.
Featuring colourful tree paintings from 'The Sacred Lives of Trees' alongside the 'My Portugal' collection of paintings.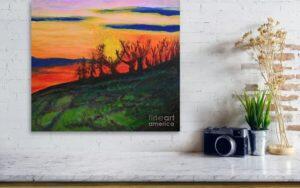 Through my artwork I provide a platform for people to express how they feel about aspects of nature. Prior to my launch of 'The Sacred Lives of Tree's' I had never heard people openly discuss how they felt about trees.
The feelings expressed by many visitors to the exhibition were echoed by my on-line network of business community and friends. Tree's provide comfort in times of lonliness and stress, they can allow us to restore a connection both within and to a greater source.
In keeping with this theme of nature and wellbeing, I have added some miniature scenes influenced by time spent in Portugal (Algarve and Lisbon) in the last two years.
The ocean also provides a source of restoration and inspiration for many people. Many people living in the Algarve referred to the healing energy of the water which is so refreshing after a long day working in the summer heat especially.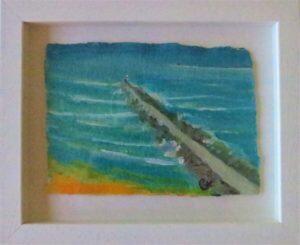 My paintings are available for sale and can be purchased in-person (during my exhibition dates) or on-line. Get in touch to make enquiry – Contact Caroline.
If you have a smaller budget for art, I offer a selection of open edition and limited edition prints. Some of the open edition prints are also available as greetings cards and customised for life-style products (phone covers, tote bags and more).
My books will also be available for purchase during the art exhibition.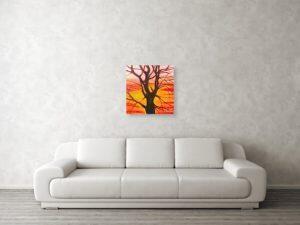 PUT IN YOUR CALENDAR:
For more about my artwork visit my blog – Caroline Cunningham's Art Blog
BE THE FIRST TO RECEIVE CAROLINE CUNNINGHAM ART NEWS & INVITES – Sign Up
Available Art Work / Paintings:
I provide a selection of my available artwork below but you can see the full gallery by clicking the links provided. Details of each piece are provided in my on-line gallery shop, which uses secure PayPal payment system. Delivery can be facilitated world-wide.
| | | |
| --- | --- | --- |
| Lisbon Tree (My Portugal) €170 | Sunrise Tree (My Portugal) €170 | Molhe Algarve (My Portugal) €170 |
VISIT GALLERY TO VIEW MORE OF THE MY PORTUGAL PAINTING COLLECTION
| | | |
| --- | --- | --- |
| Volcanic Tree Framed €170 | Amber Tree Framed €170 | Loves Light Upon Us €500 |
| Treedom €500 | Symphonic Trees €500 | Labyrinth €500 |
VISIT GALLERY TO VIEW ALL OF THE SACRED LIVES OF TREES PAINTINGS
FOR ADDITIONAL PAINTINGS…. VISIT GALLERY
Limited Edition Prints: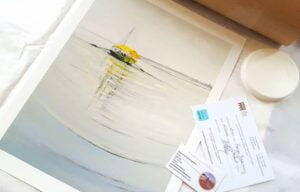 Limited edition art prints provide a high quality affordable option for you to obtain an original Caroline Cunningham art piece. Only five of my art works are available in limited edition form.
Limited Edition of 150
Giclee print on Hahnemuhle, German etching paper
Archival inks
Titled, numbered and signed by the artist
Signed Certificate of Authenticity (includes matching stickers with numbers x 2)
Price includes free worldwide shipping
SEE FULL DETAILS OF LIMITED EDITION ART WORK VIA ON-LINE GALLERY & SHOP
Open Edition Prints:
An even more affordable way to obtain an original Caroline Cunningham art print with options for customising lifestyle items such as phone-covers, tote bags and even personalised greetings cards. The beauty of this option is that you get to choose the size of the art print and the format (e.g. paper or canvas options) and ultimately you choose within your budget. These are great gift ideas for all occasions.
| | | |
| --- | --- | --- |
| Lifestyle art products on Fine Art America | Rathvilly after the Rain – Art Print | Winter Robin Art Prints & Lifestyle Gifts |
TO VIEW ALL OPEN EDITION ART OPTIONS VISIT MY FINE ART AMERICA GALLERY
Follow Caroline Cunningham Art on WordPress.com