Seven C's to Calm - Book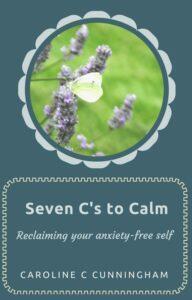 'Seven C's to Calm – Reclaiming your Anxiety Free Self' – support and encouragement for those who seek relief and recovery from anxiety.
The book of 44 pages includes a work book to facilitate the use of the three month goal strategy suggested as per the Seven C's plan.
This book is 6 x 8 inch size, paperback, making it easy to carry with you so you always have support on your journey towards calm.
Shipping is included (:
Once payment has been received the book is sent by postal system and should arrive between 7 to 14 days, depending on your location.
As featured on RTE's (Ireland TV) 'Nationwide' on 20th October 2017.

Read more about the author and the inspiration behind the book – Read More