Darker Days and The In Between - Art
Daylight dwindles in the Northern Hemisphere at the approach of winter. It is especially noticeable as our planet revolves from November to December.
It's a time of year that gives some people cause for despair as we plunge into darkness and the cold damp air that is a hallmark of Irish winter weather.
I love the outdoors and having my window open and the feel of warm sunshine on my skin in the summer months. No amount of Vitamin D can replace that feeling. Wrapping up to keep warm to prevent unnecessary tensing of muscles is one of my winter devices.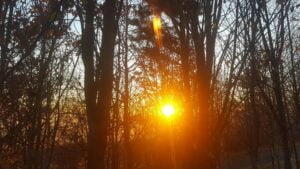 As we glide through the sublime colours of autumn, I acknowledge the in-between state of leaving any semblance of summer and preparing to embrace the winter as best I can.
I have developed my own strategies for keeping my mental health in check in the winter. Through my art work I have created a collection of paintings entitled 'The Sacred Lives of Trees'. People who have visited my exhibitions have rightly noted that I have favoured the depiction of winter trees. In other words, the branches are most likely to be bare. Some are catching the sun and some are wavering in the wind at the approach of a storm.
Observing the beauty of nature, is actually a well-being strategy for me.
That which, diverts our minds from perceived problems and dilemmas, is worthy of being appreciated and framed.
One of my tree paintings is entitled 'The In Between'. In this painting the viewer stands between the darkness and the light. There are moments in this place of in-between where our true essence is impressed even more upon us. Learning to embrace our darkness is just as important as the brilliance of our light.
Are you a Northern Hemisphere dweller? What does winter mean to you?
Or if you live in the Southern Hemisphere? What are the challenges that you face as a result of the changing seasons? Leave a comment below.
The In Between  is available an acrylic painting – Visit Gallery
Thank you for stopping by!
© Caroline Cunningham
Inspiring your Authentic Path
Save
Save
Save
Save
Save
Follow Caroline Cunningham Art on WordPress.com