Almost Nationwide - Shaws Carlow - Art Festival
I used to love that advert on the radio a few years back which announced 'Shaws! Almost nationwide!'In some giddy banter with a friend, while we play-acted a scenario of an emigrant Carlovian asking about things back home, a question posed was 'tell me this….did Shaws ever make it nationwide?'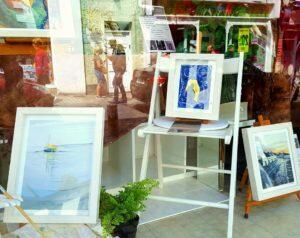 Many Carlovians have grown up with Shaws department store being at the heart of their shopping experience. A family owned business in its fourth generation, since Henry Shaw first opened its doors in 1864, it seems they have indeed 'made it nationwide', with stores in 16 locations across Ireland. Of course this warrants a new tag-line for their advertising and so we have: 'Shaws, your complete department store!'
The Carlow Shaws is a feature of Tullow Street, which could be deemed to be the heart of Carlow town. Every year Shaws of Carlow give opportunity to a local artist to be featured in their window display for the duration of the Carlow Arts Festival.
This year I am delighted to have my artwork featured in the window of this long-established department store in time for Carlow Arts Festival starting on June 7th 2017. I'm almost nationwide now too, having exhibited in Carlow, Wexford and Dublin in the last few years (:
You will have opportunity to view a sample of my painting collection from 'The Sacred Lives of Trees' along with some of my limited edition prints and my recently published poetry book 'The Whisperings of Nature.'
Limited edition prints are available unframed via my on-line shop. They are presented with a certificate of authenticity and can be delivered world-wide, loosely rolled in tissue paper within a protective tube.
A selection of open-edition prints and greetings cards are also available, so all budgets can be catered for.
Do check out my website for further details and ideas for unique gifts or home interior decor.
Limited Edition Prints – Go Shopping
Open Edition prints and greetings cards – Go Shopping
Purchase a copy of 'The Whisperings of Nature – Go Shopping
©Caroline Cunningham
Inspiring your Authentic Path
A little video glimpse into the world of 'The Sacred Lives of Trees':
Save
Save
Save
Save
Save
Save
Save
Save
Save
Save
Save
Follow Caroline Cunningham Art on WordPress.com