My homeland is Ireland, with roots in Co. Carlow. My art work is largely inspired by my relationship with nature and my love of travel. I like to work in acrylic and oil paints. I love colour and I like to mix reality with the magic of imagination.
While largely self-taught as a visual artist, I have benefited from life-drawing studies at both RHA & NCAD art colleges in Dublin, Ireland. The greatest contribution to my creative develpment is due to my studies at the Bel Canto School of Singing (Dublin).

I improvise and adapt according to the space that I have to play with and a fine balance of time spent between writing, singing studies and providing reflexology. Sponteneity has become vital and has caused me to place more emphasis on expressing the energy of the subject through colour and form.
My paintings  and commissioned works, reside in private homes in Ireland, USA, Holland, Slovakia, UK and Israel. My paintings were also featured on RTE's Nationwide programme in 2017 (Ireland National TV).
My art collections include:

.
.
PAINTINGS – ART PRINTS – COMMISSIONS & MORE
.
Available Art Work / Paintings:
M on-line gallery provides paintings on a variety of themes such as My Portugal and The Sacred Lives of Trees. A selection of my artwork is displayed below. Visit the full gallery by clicking the links provided. Delivery can be facilitated world-wide.
Lisbon Tree (My Portugal) €80

 

Carob (My Portugal) €80

Molhe Algarve (My Portugal) €80
.
| | | |
| --- | --- | --- |
| Volcanic Tree Framed €480 | Amber Tree Framed €170 | Loves Light Upon Us €500 |
| Treedom €500 | Symphonic Trees €500 | Labyrinth €500 |

.
.

.
Limited Edition Prints: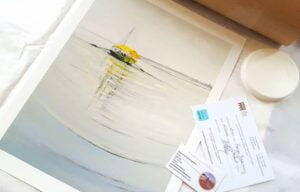 Limited edition art prints provide a high quality affordable option for you to obtain an original Caroline Cunningham art piece. Only five of my art works are available in limited edition form.
Limited Edition of 150
Giclee print on Hahnemuhle, German etching paper
Archival inks
Titled, numbered and signed by the artist
Signed Certificate of Authenticity (includes matching stickers with numbers x 2)
Price includes free worldwide shipping
.
.
Open Edition Prints:
An even more affordable way to obtain an original art print of mine, with options for customising lifestyle items such as phone-covers, tote bags and even personalised greetings cards. The beauty of this option is that you get to choose the size of the art print and the format (e.g. paper or canvas options) and ultimately you choose within your budget. These are gift ideas for all occasions.
| | | |
| --- | --- | --- |
| Lifestyle art products on Fine Art America | Rathvilly after the Rain – Art Print | Winter Robin Art Prints & Lifestyle Gifts |
.

.
Exhibitions:
I have been exhibiting my work since 2009 with solo exhibits in Dublin, Carlow and Wexford (Ireland) and as part of collective exhibits at The Design House (Dublin 2), Art Bank Bunclody (Wexford), 'Peoples Art' (Dublin), 'Art in the Open' (Wexford) and during Carlow & Kilkenny Arts Festivals.
.
Commmisions:
If you have an idea for a painting that you would like to realise either for your home or business or as a gift to friend or organisation simply get in touch to discuss the possibilities. I will be able to guide you on size, materials and time-frame and budget.
Commissions have included portraits and landscapes and special commission for hotel and cultural events, such as 'Mind The Gap' which was presented with an accompanying poem, to County Carlow Association Of New York on behalf of its London counter-part, as part of St. Patricks Day celebrations in New York.
Sa
| | |
| --- | --- |
| Portrait of George | Portait of Ciara (Life Sitting) |