The Best Deal For You - Books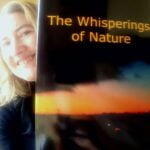 'The Whisperings of Nature' is the first book I have ever published and I am thrilled to say that it is being well received by many readers both in Ireland and other parts of the world such as USA, UK and more recently Finland!
Having received already, two book reviews from fellow bloggers in the field of mental and holistic health, I feel quite encouraged to push through with publication of my next books.
The Whisperings of Nature is a little book that can be perfect as a gift or just for yourself.
The poems within are ideal for those who seek comfort, wisdom and inspiration from Nature.
If you are interested in purchasing a copy of my poetry book there are two ways you can do this.
Purchase directly from the author:
This way you will receive your book within 5 to 10 working days (or much less if in Ireland or UK).
€10 includes the delivery regardless of where you live and your book is sent via the postal system.
You can even request your book to be signed by the author.
This suits those seeking smaller quantities of my book, especially single copies.
Purchase directly from the publisher:
The publisher states 7 to 14 working days for delivery of the book (print on demand). I have discovered however that it is taking twice this length for the delivery of single copies.
The author receives a royalty through this system and the royalties are paid quarterly only if and when a certain threshold of royalties is reached. The delivery prices vary depending on your country.
You can get a better deal on the book if you live in Ireland or UK but other than that the site favours the purchase of larger quantities of the book.
This system would be more suitable for book stores who would like to profit from selling the book themselves.
Are you ready to go shopping?
Which deal suits you best?
Purchase directly from the author
Purchase directly from the publisher
If you have already read my book 'The Whisperings of Nature', consider leaving a comment to help others readers decide if they would like it too.
Book Reviews for The Whispering of Nature
Extract from The Whisperings of Nature
Thank you for stopping by!
© Caroline Cunningham
Inspiring your Authentic Path
Save
Save
Save
Save
Save
Save
Save
Save
Save
Save
Save
Save