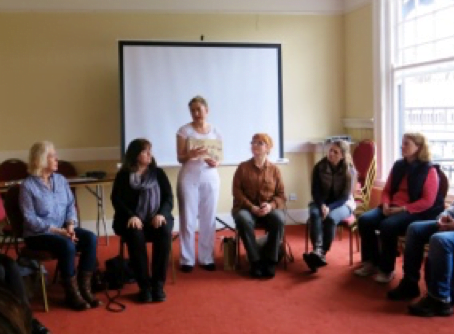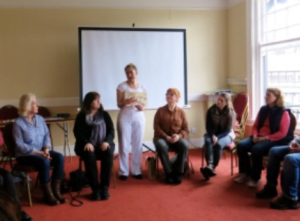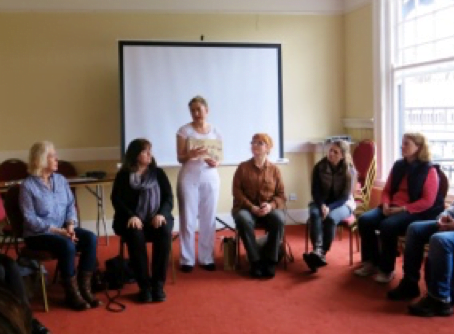 Well-being Work-shops for Groups:
Caroline Cunningham (Authentic Reflexology) designs and facilitates well-being workshops which incorporate meditation, reflexology self-treatment techniques, additional self-care strategies and empowerment for strengthening self-awareness, immunity and mental health. Creative practice can be included and workshops can be customised for each groups requirement. Workshops are suitable for groups of up to 12 people and can be faciliated in private homes, community centres or in corporate settings. – Contact to make enquiry and booking.
Workshops do not provide CPD points and do not qualify therapists (who are untrained in reflexology) to use the techniques in their professional practice.
Locations:  While my therapy and mini-workshop locations are mainly Carlow and Dublin, it may be possible to offer group workshops in additional locations (Ireland and Portugal).  See Locations or make Enquiry
MINI – WORKSHOPS FOR INDIVIDUALS AND FAMILIES
Parent and Child Workshop:
Workshops designed for the needs of your child e.g. if your child is having trouble with digestion, sleeping or anxiety
This 90 minute workshop involves consultation and foot assessment for your child followed by light reflexology treatment of the foot or hand reflexes. The parent is shown some useful soothing reflexology techniques to use with their child in their own home
Each parent and child workshop is created for specific needs of your child – Contact to make enquiry and booking
Authentic Path Inspiration:
Designed to assist clients who are having trouble knowing the right path to take e.g. starting a new business, changing career, setting goals or feeling stuck/blocked.
This is a 90 minute session which includes a 60 minute standard reflexology treatment and 30 minutes ideas generation and discussion
Reflexology assists relaxation of the mind and body which promotes clear thinking
Clients can avail of 20 years worth of my knowledge gained through career transition and committment to personal transformation and spiritual development (since 1999) – Contact to make enquiry and booking.
Make Enquiry/Booking – CONTACT
Professional Qualifications and Experience – ABOUT CAROLINE CUNNINGHAM
What people say about my work – CLIENT TESTIMONIALS
Health Insurance: Caroline Cunningham is a registered member of Irish Reflexologists' Institute (I.R.I.L.), which ensures professsional standards in reflexology and qualifies clients of registered therapists to claim back costs of treatment from their health insurer once they have the relevant level of health cover.