Why 'Authentic' Reflexology?
This is a question I get asked frequently. My answer is clear. I value and promote authenticity. Authenticity partly relates to knowing the lineage of my reflexology training and my intention to be true to its values. Authenticity also relates to following our 'life-purpose', being true to ourselves.
Continuous learning, practice and observation are essential to this goal. My knowledge of working the reflexes has been passed to me by my tutor Alison Kavanagh. Alison received her training from Dwight Byers, nephew of Eunice Ingham, the pioneer of modern reflexology and creator of the internationally recognised foot maps used by reflexologists.
In keeping with this excellent line of tutoring I've been fortunate to have studied with Hanne Marquardt, a pioneer and a student of Eunice Ingham. During Hanne's lifetime she has further developed and refined Reflexology. Thanks to her efforts, reflexology has become widely known in Europe.
I have also had the opportunity to study with Dr. Carol Samuel who is the first person in the world to have doctorate in reflexology. Dr. Samuel specialised in clinical reflexology for the treatment of pain. This involves indepth study of the nervous system. Dr. Samuel has completed much research in her study and practice.
The application of pressure to body parts, including the feet, for the purposes of maintaining good health and well-being has its roots in ancient cultures such as the Egyptians, Chinese, Japanese and Native American Indians.
Combining modern day advances with the techniques and practices of such ancient therapies has resulted in reflexology being a highly effective and respected complementary therapy in this modern age.
While I have huge respect for the scientific development of reflexology, I also have a deep regard and intuition for the spiritual aspect of this healing modem. As a creative being I have a sensitivity to the energy makeup of our world and this is additionally expressed through my artwork and books.
©Caroline Cunningham
Authentic Reflexology, Artist & Writer
See the full range of options for Authentic Reflexology treatments & well-being workshops
AUTHENTIC REFLEXOLOGY IN THE MEDIA:
Be Authentic (Womans Way Magazine)  Find out why I am passionate about inspiring authenticity in my article in this popular woman's magazine –
As seen on Nationwide RTE (Ireland National TV) – featuring my book 'Seven C's to Calm -Reclaiming your Anxiety-Free Self'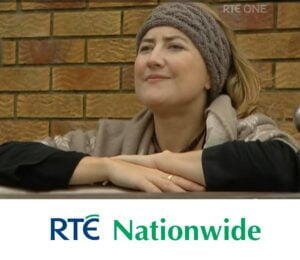 Creative & Well-Being Gift Ideas:

I provide artwork and books on themes of nature, well-being and inspiration for your Authentic Path. Another way to share the wonder and beauty that I have been fortunate to experience. My artwork and books are ready to be shipped near and far and with lots of price options there is something everyone can afford. See links provided: