Reflexology Pamper Party Celebration
Reflexology Pamper Party anyone? Organising a reflexology pamper party in the comfort of your own home can be a wonderful way to celebrate a special reunion of family members or friends or even as part of a special event such as your wedding day, anniversary or birthday.
I have had the pleasure of providing treatments in the comfort of my client's homes for a variety of circumstances. Treatments can be tailored to each individual and the length of treatment can be 30mins or up to one hour per treatment depending on the number of people in your party.
Reflexology parties are recommended for groups of up to 6 people.
How to organise a reflexology party in the comfort of your own home:
Get in touch via the contact form to make enquiry and booking – Contact Authentic Reflexology

In your email, provide details such as:
your location
number of people in your party
number of hours your group wish to dedicate to reflexology
Ideal dates and time of day
Your contact number for ease of communication.
Select a space that you can dedicate to having the treatment – a separate room for example where each person can have privacy and undisturbed time, preferably a warm room. You can light some candles or provide some ambient lighting if you prefer, for the purpose of creating a more relaxed ambiance.
You need to provide a light throw or blanket and some pillows
I will bring a portable sturdy plinth, towels, music & small speakers (you can supply music if you prefer) and other materials necessary for the treatment.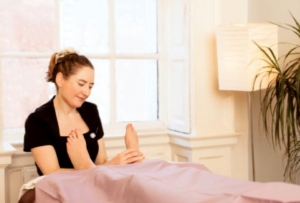 What happens during each reflexology treatment?
Reflexology consists of a consultation, foot reading and application of specific pressure and massage techniques to the feet throughout treatment. The purpose is to relieve tension, improve circulation and relaxation so that body and mind can return to balance.
The treatments can be tailored to each person's individual needs and sensitivities.
For more information about reflexology and its many benefits visit my reflexology page and blog.
Find out more about reflexology
Find out more about Authentic Reflexology Therapist Caroline Cunningham
Make a booking or enquiry about Reflexology Home Treatments – Contact Authentic Reflexology
Get to know my work by reading my client testimonials:
'If found Caroline by chance and I'm so glad I did. What a magnificent lady! Caroline exudes tranquility and calm and serenity naturally. She provided an extremel professional yet personal reflexology experience for what I would call a reflexology party, in my home.
My mother-in-law and her sister were coming to visit and I wanted to do something different for us all. In a matter of minutes, Caroine converted our spare bedroom into a therapy room, complete with music and candles. Each treatment was tailored to our individual needs. It was a superb relaxing, pampering, holistic experience. I highly recommend Caroline for your reflexology therapy needs.' – Angela (Carlow, Ireland)
Read more client testimonials for Authentic Reflexology
© Caroline Cunningham
Authentic Reflexology Specialist
Member of Irish Reflexologists' Institute Ltd.
Follow Caroline Cunningham Art on WordPress.com