Reflexology Home Treatment for Comfort
Reflexology home treatment allows you to experience personalised therapy in the comfort of your own home. Home treatments not only allow for convenience but can be essential in situations where travel by the client is not conducive to their health and well-being.
Some circumstances where reflexology home treatment has been more suitable:
Clients with special needs (includes autism)
Clients with mobility issues
Pregnant clients with stressful work life
Clients dealing with illness (e.g. MS/ME)
Clients who have time constraints.
If you have health insurance, you may have cover for reflexology. I am an I.R.I.L. registered therapist which means my clients can benefit by recovering some (or all) costs from their health insurer (check your health insurance policy to see if you have the relevant cover).

How to prepare for reflexology home treatment:
You will need to provide a warm blanket and a small towel and some pillows.
I can provide a reflexology reclining chair or you may prefer to use your bed or sofa for receiving treatment. I will need to access your feet (while you are lying down) so make sure there is no obstruction at the end of the bed or sofa. There also needs to be space for a chair to be placed at the end of your bed/sofa so that I may sit there to provide the treatment.
I will bring some calming music but you are free to use your preferred music
You are welcome to light candles if it helps you feel more relaxed.
Make sure that other people in your home are aware that you need quiet time so as not to be disturbed during treatment.
Make sure your space is well heated so as to be comfortable as possible during treatment
Make an enquiry about Reflexology Home Treatments – Contact Authentic Reflexology
Get to know my work by reading my client testimonials:
'I highly recommend Caroline for reflexology, she is gentle but she works miracles' – Anna Scheller USA
View more of Carolines Testimonials
Authentic Reflexology
Member of Irish Reflexologists Institute Ltd.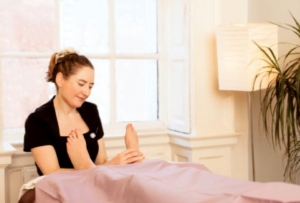 Follow Caroline Cunningham Art on WordPress.com