Carlow Library a Valuable Resource for Creativity & Wellbeing
Carlow town and county has a great resource in the form of it's County Library (Tullow Street, Carlow). Formerly a Presentation Convent school, the building has been adapted to combine with the County Musuem  and Tourist Office.
While the main library is bright, airy and modern, it has also retained a room of special character from the buildings original use as convent school. This room is known as The Shaw Room in acknowledgement of Carlow's connection with acclaimed writer George Bernard Shaw who bequeathed part of his legacy to Carlow town enabling the beginnings of Carlow Library.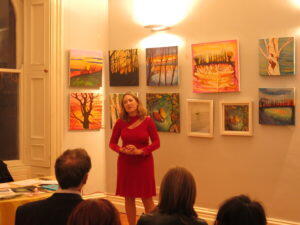 The Shaw Room is a valuable asset of the library and may be provided for use by local community groups and individuals for the purposes of education, exhibition and demonstration (this requires advance booking and consultation with the library).
As a creative Carlovian, I have been very fortunate to have had use of the Library's Shaw Room on a number of occasions. I have used it to launch my art collection 'The Sacred Lives of Trees' and two self-published books and to present a well-being workshop and a singing performance (all within a 12 month period).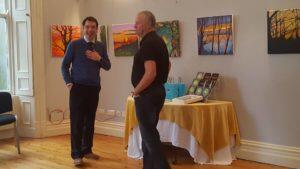 During these events, I have had the full support of the library staff. I am sincerely grateful for their warm welcome and assistance on every occasion. Although they tell me I am no trouble to them at all, they always made sure I had everything I needed.
Through Carlow County Library, I made very useful connections with other groups such as 'Glor Ceatharlach' (promoting Irish Language) and Carlow Mental Health association (Mensana).
When RTE's 'Nationwide' reporter, Helen Mc Inerney invited me to be featured as an author on topic of anxiety, I was delighted to share that limelight with my friends at Carlow County Library.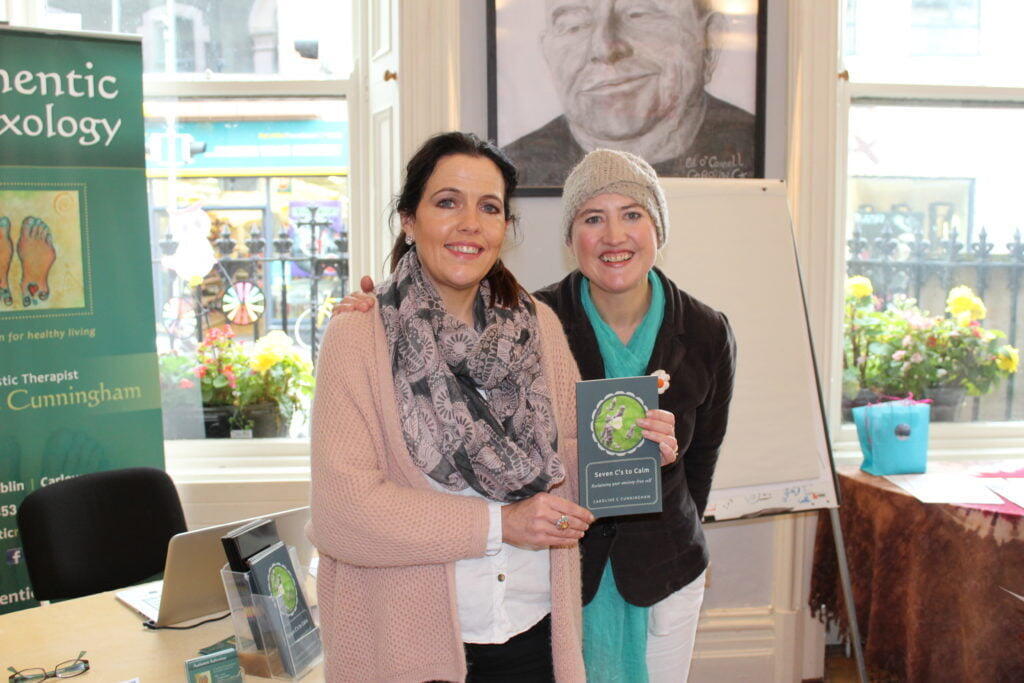 An atmosphere of mutual support and promotion is something to be encouraged and it is especially welcomed by those of us in the arts, who provide inspiration and well-being benefits in our wider community.
Visit Carlow Library on Facebook or via their website or simply drop in to their fine building on Tullow Street, Carlow to find out about their range of services and events which includes genealogy and learning supports.
And the good news is that my books are on their shelves too:
The Whisperings of Nature (Poetry)
Seven C's to Calm – Reclaiming your Anxiety-free Self (Wellbeing)
Carlow County Library – Website and Facebook Page
©Caroline Cunningham
Inspiring your Authentic Path
Simple Guide to Caroline's Art Shop
Caroline provides 'Authentic Reflexology' therapy in Carlow & Dublin (Ireland) & in Algarve (Portugal) – Visit Authentic Reflexology
Caroline also provides business mentoring – 'Authentic Biz Sessions'
Nationwide – Behind the Scenes at Carlow Library