Autumn Leaves & Dreams - Carlow Creative Event
My incubation centre for all my creative offerings! This is how I describe the Shaw Room in Carlow County Library. I am blessed to have this space provided by my local library. I reckon it's the envy of creative's in other counties.
'Autumn Leaves and Dreams' or 'Duilleoga agus Aislingi an Fhomair', this is the title of my next creative venture at Carlow Library from September 29th to October 6th, co-inciding with Irish language festival 'Glor Cheatharlach'.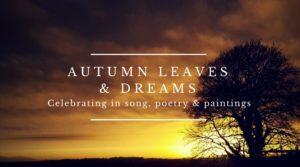 Here you have an opportunity to view my artwork, inspired by Nature and dreams on a theme of well-being and simplicity. The theme continues with a free self-care workshop especially designed to support people who live with the discomfort and limitations of anxiety. During the work-shop I will out-line the 'Seven C's to Calm' as per my book of the same title. A demonstration of self-care through reflexology and a short meditation will also be provided.

And to top it all, I will provide an evening of songs in Irish and English language, featuring also my poetry from 'The Whisperings of Nature'.
These events, art exhibition, self-care workshop and evening performance, are being provided free of charge and funded solely by the artist (with the exception of the venue which is kindly sponsored by Carlow County Library).
Art and books of Caroline Cunningham are for sale during the event and via the on-line shop on this site. I urge you to show your support for my continued offerings of creativity to our society.
A therapist friend of mine reminded me recently, that art and creativity are as important to our society, as the bees are for our continued survival. If you are not sure why we need art, ask me!
Thanks for stopping by, do check out my on-line shop (artwork and books).
©Caroline Cunningham
Inspring your Authentic Path
Visit Autumn Leaves and Dreams event on Facebook!
Save
Save
Save
Follow Caroline Cunningham Art on WordPress.com