Autism - Reflexology Offers Calm
Communication with the client is an important feature of reflexology therapy. It starts with the consultation and continues with regular check-ins as to how the client may be experiencing the therapy and what benefits they feel they have received.
But what if a client cannot verbally communicate with the therapist as may be the case when a client has autism.
For a number of months I have had the fortune to provide reflexology therapy for Anna. The fact that Anna has autism has given me a new learning experience not just because of her autism but because she is unable to communicate in a verbal sense.
Working with Anna has deepened my awareness of the fact that each individual is unique and that includes people with autism. Naturally, Anna's mother acted on her behalf with regards to the initial consultation. From this I ascertained that Anna appeared to be experiencing some anxiety which resulted in behavioural changes one being an unwillingness to leave the family home, sometimes even for short trips to the shops in the company of her mother.
Anna had not experienced reflexology therapy before or any other touch therapy, so it was relief to her family that she accepted the treatment from someone whom she had not met before. All reflexology treatments took place in the family home, which meant that Anna could be more at ease.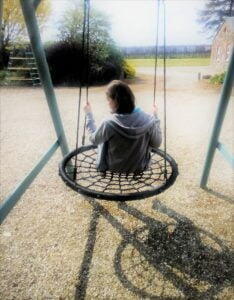 Every treatment with Anna is a different experience. There was the day she decided she did not want to take off her shoes and socks but allowed me to do a full treatment of reflexology on her hands. Anna has a great ability to amuse herself with thoughts that are running through her mind so I am constantly on the lookout for ways to bring her into a stillness so as to allow her to have a complete break from all that mental activity. I have to be just as clever as she is because sometimes she anticipates my moves that she has become familiar with, necessitating a need for me to change my technique and routine.
Some days, I invite her to play a game at the end of our therapy using a play of hands, where she gets to experience taking the lead in giving and receiving. Her smiles would like up enormous buildings and sometimes, if I'm lucky, I get a hug.
Anna's mum explained to me the meaning behind the jigsaw symbol for Autism. Every jigsaw piece is different and so too every person with autism. 'If you know one person with autism, you only know one person with autism', says Anna's mum, Martina.
And it is true for every person I encounter. We are all unique with something interesting to share with others.
It has been a rewarding experience to realise that Anna enjoys reflexology and is getting benefit from the regular treatments and it is a pleasure to provide treatment for her and her mum.
Martina had this to say about the benefits of reflexology for Anna and their family:
"I first heard of Caroline and her 'Authentic Reflexology' service through her art exhibition 'Return of the Sacred Trees' at Art Bank Bunclody in November 2017. At the time our daughter Anna, who has autism, had stopped going to her day care centre 8 months previously (in February). She had been attending day care from the age of 18 years, following her attendance of special school, making it a total of 8 years of travel by bus.
Anna is 'non-verbal' and so could not explain her reasons for not wanting to go to her day care centre anymore but she let us know by her behaviour. Every behaviour is a communication and Anna became aggressive and noticeably stressed when asked to leave the house for the bus journey to the centre. After months of trying to work through this situation we finally accepted that Anna was better off being at home where she is happiest.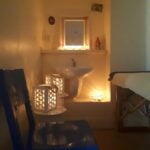 I had always heard that one of reflexology's many benefits is that it reduces stress and tension so I contacted Caroline and asked if she would call to our home to see if Anna might enjoy a treatment. We have a small treatment room in our home as two of our girls had studied beauty therapy so the space was suitable for the reflexology treatments.
When Caroline came to visit, I was unsure how Anna would react to her. I was pleasantly surprised to see Anna interact with Caroline in a very positive way. Six months later, both Anna and I are having weekly reflexology treatments with Caroline. Anna always has a welcome for her. I have my hour with Caroline first and Anna is always waiting her turn. She is more relaxed and less stressed. I believe everything happens for a reason and I feel blessed to have Caroline in our lives" (Martina/Mother of Anna)
Autism is a complex, invisible condition which a person is born with. It is a developmental condition which means that the way a person communicates, interacts and understands other people, and the world, is different to those who do not have the condition. It can be described as a "spectrum" which means it impacts different people, in different ways, to differing degrees at different times and in different situations. To find out more about Autism visit:  www.asiam.ie
Thank you to Anna's mum Martina for agreeing to this article with regards to reflexology and autism and to Anna for allowing me this opportunity to improve as a therapist.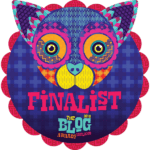 © Caroline Cunningham
Authentic Reflexology (Carlow/Dublin Clinics)
Irish Health Insurers provide cover for reflexology treatments provided by therapists who are registered with professional body of reflexologists. I am a member of Irish Reflexologists' Institute Ltd. (I.R.I.L.).
WHAT IS REFLEXOLOGY? – FIND OUT
AUTHENTIC REFLEXOLOGY LOCATIONS
MAKE AN APPOINTMENT – CONTACT
Follow Caroline Cunningham Art on WordPress.com