Amazon & Book Depository stocking Seven Cs to Calm
I have already had one enquiry about a translation to Turkish!
Now more than ever, it is important that we seek support to deal with anxiety.
In a rapidly changing world we need to do all we can to reduce stress for a healthy existence.
In the past many people suffered in silence with anxiety, ashamed to speak out and even assuming that their discomfort had to be endured without relief. Thankfully our societies are starting to have more open discussions and a more supportive environment is being created.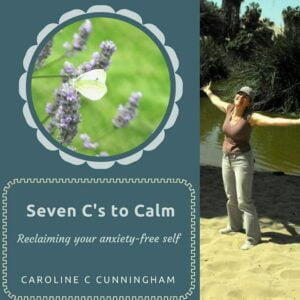 In 'Seven C's to Calm' I encourage people to take action, starting with the smallest steps, in order to restore calm. There are simple supportive suggestions provided and a work-book is included to make the exercises very easy to use.
Read more about what previous readers have said about Seven C's to Calm – What The Readers Say
Get your copy of Seven C's to Calm from Amazon today – GO SHOPPING!
ALSO AVAILABLE:
Free eBook – Preparing for Calm
Poetry Book – The Whisperings of Nature
Have you read my books? Consider leaving a review below. We grow stronger by supporting each other.
Thank you for stopping by.
©Caroline Cunningham
Inspiring your Authentic Path
Save
Save
Save